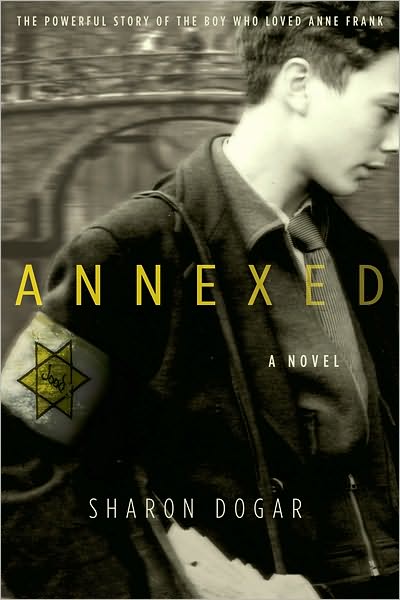 By:
Sharon Dogar
Published:
October 2010 by Houghton Mifflin Harcourt
Format:
Hardcover, 337 pages
First Reviewed:
December 2010
Buy:
Barnes & Noble
//
Books-A-Million
//
Amazon
//
Book Depository
Add it on Goodreads
The powerful story of the boy who loved Anne Frank.
Everyone knows about Anne Frank and her life hidden in the secret annex - but what about the boy who was also trapped there with her?

In this powerful and gripping novel, Sharon Dogar explores what this might have been like from Peter's point of view. What was it like to be forced into hiding with Anne Frank, first to hate her and then to find yourself falling in love with her? Especially with your parents and her parents all watching almost everything you do together. To know you're being written about in Anne's diary, day after day? What's it like to start questioning your religion, wondering why simply being Jewish inspires such hatred and persecution? Or to just sit and wait and watch while others die, and wish you were fighting.

As Peter and Anne become closer and closer in their confined quarters, how can they make sense of what they see happening around them?

Anne's diary ends on August 4, 1944, but Peter's story takes us on, beyond their betrayal and into the Nazi death camps. He details with accuracy, clarity and compassion the reality of day to day survival in Auschwitz - and ultimately the horrific fates of the Annex's occupants.
Rating:
3/5
I read Anne Frank's diary years and years ago (probably about 10 years ago), and while I didn't remember much of the diary itself, I remembered the story. It's a story that has always and will always have an incredible impact on me. I can hardly think about it without crying. Touching Anne Frank's story is a risk, and I think Sharon Dogar did an good job overall, although I think it would have been stronger if she just made up the story and made everyone fictional characters.
The setting, for those who aren't familiar with Anne Frank, is Amsterdam, Holland during WWII. The characters never leave their secret hideout for two years. Dogar adds a bit (about 50 or so pages) at the end with Peter in the camps. I think Dogar did a good job describing, but, as someone who hasn't read Anne Frank's diary in quite a while, I would have liked a bit more of the feeling of being cramped in there.
While Peter was a real person, this version of him is pure fiction, and I don't know how I feel about the personality Dogar gave him. As a teenage boy, I think she captured that well, but on a deeper level, I don't know. As for Anne, I'm also unsure. I like that she kind of made her different from her diary, because it's true that a lot of people seem different through personal writing, like diaries, than they seem to those around them. But I wasn't completely sold on Dogar's characterization. And we didn't get too much of other characters, at least not as much as I would have liked. It's hard to do what Dogar attempted, which is why I think she would have been better off using purely fictional characters.
As for the writing, I didn't love it too much. I liked some of her style when it came to sole narration and emotion. She had a good rhythm at times. But that also hurt her later on, in my opinion. It started to become too staccato for me, and the flow left almost completely. Then I'd like to say that the dialogue was good, but it was too cheesy for me. Sometimes it was fine, but then I had to wonder if the author was ten years old because she used exclamation points at the dumbest places, and way too often. It just didn't make any sense, and I kept having to pause and go, "Are they yelling? No, they have to be quiet. Okay, so they're exclaiming. Exclaiming, why? That's not a word/phrase that needs to be exclaimed." When/If you read the book, you'll understand what I mean. And last thing: I felt she rushed, especially at the end. Considering this wasn't a diary, I think she could have easily developed it much more.
I think everyone knows the plot of this story, and if you don't, you really need to familiarize yourself with Anne Frank, and read her story, and other accounts of the holocaust. I can't say that I loved the plot because who can possibly say they loved what happened to these people? I will say, though, that I hated the crappy chapter headings. Okay, that sounds mean, but seriously, read the chapter headings when you pick up the book. I was like, "Um...really?"
Anne Frank's story is too powerful for words, and I know I'll be re-reading her diary very soon. It's impossible to write a companion novel to her diary, and I still think this would have been much stronger if she hadn't tried to tie it in. However, I do hope this book makes more young adults pick up Anne Frank's diary. While I don't think the writing is too good and the book didn't dive as far as I think it could have, the story will always be worth reading, no matter what form. Never forget.