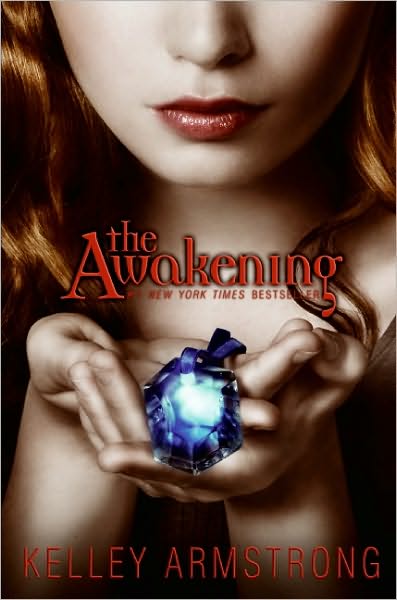 By:
Kelley Armstrong
Published:
April 2009 by HarperCollins
Format:
Hardcover, 357 pages
First Reviewed:
September 2011
Buy:
Barnes & Noble
//
Books-A-Million
//
Amazon
//
Book Depository
Add it on Goodreads
If you had met me a few weeks ago, you probably would have described me as an average teenage girl--someone normal. Now my life has changed forever and I'm as far away from normal as it gets. A living science experiment not only can I see ghosts, but I was genetically altered by a sinister organization called the Edison Group. What does that mean? For starters, I'm a teenage necromancer whose powers are out of control; I raise the dead without even trying. Trust me, that is not a power you want to have. Ever.
Now I'm running for my life with three of my supernatural friends a charming sorcerer, a cynical werewolf, and a disgruntled witch and we have to find someone who can help us before the Edison Group finds us first. Or die trying.
Rating:
4/5
First things first: I hate the descriptions of these books. Seriously. If I hadn't read this book and it's predecessor over two years ago (when I never paid too much attention to details such as this), then I would have never picked them up because of the description. One of my biggest pet peeves are descriptions written by the character. Anyway, now that I have that off my chest...
This was another re-read for me. I'd read it back when it first came out in 2009, and I remember enjoying it. As with my re-read of The Summoning, I'm happy to report enjoying it just as much this time around.
To avoid repeating myself, everything I liked about the first book still rings true for this one. Chloe was a strong lead and I loved how Armstrong stayed consistent with her movie/director mindset, connecting things--realistically, I might add--to what's happening around her. We also got more of those types of connections with Simon and his graphic art love.
I have to say, though, what I loved most about this book was how it--both books, actually--read like an adult novel. Not in the sense of it being...well, adult, but in the way that Armstrong didn't stoop down to the YA level and throw in things and situations that every publisher thinks young adults all want and need. Like the romance. There isn't any. There's little sparks that make it clear that Chloe will end up with someone, but that also leaves the reader curious to whom that will be. Almost like a love triangle without the love or lust. It's hard to explain unless you've read the books. But I will admit, though, that I love Armstrong's craftiness with that aspect.
As for the plot, it's another part of the series I love. Because it keeps on moving, adding in new details and intensity. I do wish there would have been a tad bit more surprises, and while I enjoyed the intensity, some places I think it could have been more. But that's really my only criticism for this book. I love the writing, as it's mature yet still young, and the pacing was great. These books are the types that could be morphed into a single book and work just fine, all while they each have their specific goals and plotlines.
Overall, I love this series. I'm not quite sure if it's ready for my "must-read" stamp (five stars) just yet, but if The Reckoning steps it up even more, then I just may have to give it to Armstrong. I highly recommend this series, especially if you're looking for something paranormal without the cliched romance thrown in or the unbelievability. Definitely a solid, great read.