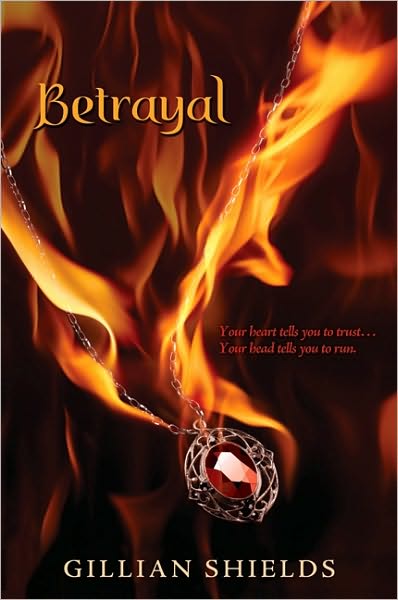 By:
Gillian Shields
Published:
August 2010 by Katherine Tegen Books
Format:
Hardcover, 359 pages
First Reviewed:
April 2011
Buy:
Barnes & Noble
//
Books-A-Million
//
Amazon
//
Book Depository
Add it on Goodreads
Your heart tells you to trust. Your head tells you to run.
There are the small betrayals: the unkind word, the petty lies. And there are the betrayals that break hearts, destroy worlds, and turn the strong sweet light of day into bitter dust.
When Evie Johnson started at Wyldcliffe Abbey School for Young Ladies, her life changed in ways she couldn't possibly have envisioned: the discovery of her link with Lady Agnes, her special bond with Helen and Sarah, and their sisterhood in the astonishing secrets of the Mystic Way. Above all, Evie's love for Sebastian has turned her world upside down.
Now Evie returns to Wyldcliffe for another term and more danger. Surrounded by enemies, she lives every day in fear that Sebastian will fall into the darkness of servitude to the Unconquered Lords. The Wyldcliffe coven is plotting to destroy Evie and use Sebastian to secure their own immortality. Evie and her sisters must master the power of the Talisman before it is too late. But could it be Sebastian himself who will ultimately betray Evie?
In this companion to Gillian Shields's dazzling Immortal, magic and sweeping romance cross the bounds of time to deliver heart-stopping emotion and suspense.
Rating:
3/5
Sequel to Immortal. All right, so I was pretty excited to read this, as I expected it to get better from Immortal, which I enjoyed, and because I love the cover. I know, I know, don't judge by the cover, but too bad. I do. Love the cover, so I wanted to love the book. I ended up liking it okay, but I don't think I enjoyed it as much as the first.
For the first, I'd say, fourth of the book, I was pretty bored. The prologue, for one, was completely unnecessary, and the following chapters just moved too slow and were filled with that background knowledge of what happened in the first book.
I didn't really feel a growth in any of the characters. They all felt the same, and some of them were even a bit duller (some of the supporting cast) or annoying (Sebastian drove me nuts in this). Evie was just the same obtuse girl throughout a lot of this, though she's still all right. There were some nicely developed new characters, though.
As for the writing, I didn't like it as much as in the first. I felt there was much more cheesy phrasing with dialogue and thoughts and especially with some of the notes. Sometimes I was like, "Oh, come on, this is getting "little kid-y." Also, there were quite a few errors (like "Blah." he said, as well as some missing "s"s, etc.) and inconsistencies, like with "Mum" and "Mom." The writing just didn't feel as clean.
The premise was still one I really enjoyed, but I felt it was just too safe. Unlike with Immortal, it was just "this is what happened," "this is what's going to happen," and "I need to do this." There were some good added mystery and I think it would have been much better with more development in the suspense and eeriness. I felt as though I was just reading a nice story rather than really getting involved in what was going to happen, who was who, and who was responsible for what.
Overall, it was an okay read. I prefer Immortal, but this is still good. Shields does a great job forcing me to read and I didn't want to put the book down, no matter what was bothering me. So with that said, it's a decent read and I recommend trying the series out.