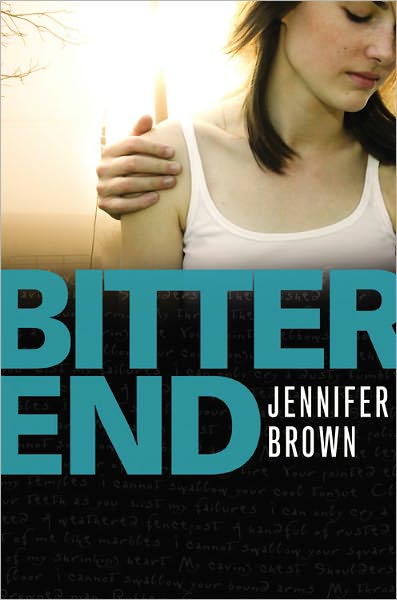 By:
Jennifer Brown
Published:
May 2011 Little, Brown Books for Young Readers
Format:
Hardcover, 354 pages
First Reviewed:
July 2011
Buy:
Barnes & Noble
//
Books-A-Million
//
Amazon
//
Book Depository
Add it on Goodreads
He'd never told me he loved me before. Nobody had ever told me they loved me before.
When Alex falls for the charming new boy at school, Cole — a handsome, funny, sports star who adores her — she can't believe she's finally found her soul mate . . . someone who truly loves and understands her.
At first, Alex is blissfully happy. Sure, Cole seems a little jealous of her relationship with her close friend Zack, but what guy would want his girlfriend spending all her time with another boy? As the months pass, though, Alex can no longer ignore Cole's small put-downs, pinches, or increasingly violent threats.
As Alex struggles to come to terms with the sweet boyfriend she fell in love with and the boyfriend whose "love" she no longer recognizes, she is forced to choose — between her "true love" and herself.
Rating:
4/5
This poor book has been sitting on my nightstand for two weeks. I started it on the 1st of the month, but then didn't get to read until today. Anyway, it's my second book by Jennifer Brown, an author I came to love with her first novel, Hate List. Going into this, I expected to love it as much as I did her first book, but unfortunately, I didn't. I did very much like it, though, it just wasn't up to par with Hate List.
With Hate List--yes, I have to compare--I was so involved with the incredible story/character-crafting that I didn't pay attention to the writing. I didn't have to edit, which is a huge rarity (can't help myself, y'all). I felt like this was a little step back from that. I reverted back to how I normally read, dissecting and editing and noticing all flaws. The writing became another factor that I had to pay attention to.
One of my main issues was the repetition. Both with words/phrases and with elements. After a while, I got tired of the repeating of childhood friendship and of Alex constantly going over things in her narration. Some of that, I completely understood given the situation, but some of it was a bit too much. And the other thing I felt that lacked compared to Hate List, was the emotional connection I had. With Hate List, the writing threw me into the emotion, where I had to hunt for it in this one.
However, I still very much enjoy Brown's style. She's simple, yet there are some great prose moments and development with certain connections. And while she grasped Alex's voice very well, she killed the dialogue. It was wonderful and extremely realistic. The jokes were natural--some are a little sexual, so be warned; I was okay, though--and fit with the characters.
Like with Hate List, Brown has a fantastic way with characterization. With her first book, her main focus was on two characters, but with this, she tackled several more major-minor characters, and they were very realistic, as though they just jumped from real life into the book. I absolutely fell in love with Alex's best friends, who were two very different personalities with different hobbies and loves. The three were a fantastic depiction of close friends who have grown up from childhood.
With Cole, I felt he was also a realistic character. Brown succeeded in making the reader understand why he was like he was--though I would have liked a bit more of this later on--and the transitions in his sudden anger bursts felt as real as he did.
There are two things that I didn't care for with the characterization this time around. While I did like Alex and felt for her on some level, I just didn't completely connect with her on a deep level as much as I would have liked. She was strong, yet a little on the whiny side. I understand a hard family life, but the whininess was a bit much at times.
The second thing that I didn't care for was I felt some of the reactions by Beth and Zack--mainly Beth--weren't enough. Sometimes I got confused to why she was acting the way she was toward Alex when she knew what was going on. That part just wasn't made clear. Your best friend is being abused, her safety should be more important than just keeping the secret because she wants you to. I don't know, that bothered me a bit.
Brown, even though there are only these two books, is one of the few who can take a tough subject matter and write about it in a way that you're not going through it all depressed. You think reading a book on an abusive relationship would be a read spent in depression, but it wasn't. There was humor as well as anger, happiness as well as sadness. Even though I wasn't as emotionally connected as I would have liked to have been, I appreciated the variations and handle on the different emotional levels, because that absolutely does happen. Life has all of those.
Brown also crafted this well. We spent a nice chunk of time witnessing the developing relationship between Alex and Cole, then watched as she changed, the friendships changed, and then saw the anger surface, all at the perfect times. I also loved the development of the minor plots; they were altered and impacted by the main plot as one would expect, and also added to the story, never taking away.
Random, but I found some errors. Muahaha! So--ahem--editors. Anyway, I really enjoyed that Brown incorporated so many different types of interests. Poetry, acting, basketball, environment-loving, video games, etc. That was something that one would expect to find in a real setting with a real group of people, so I appreciated that.
Bitter End was a great read. It did make me feel and I was able to relate to Alex on many levels. It just wasn't as emotional and deep as I expected after Hate List. However, I'm still a huge fan of fellow Kansas Citien, Jennifer Brown. I'm looking forward to another novel by her and am interested to see what tough subject she tackles next.