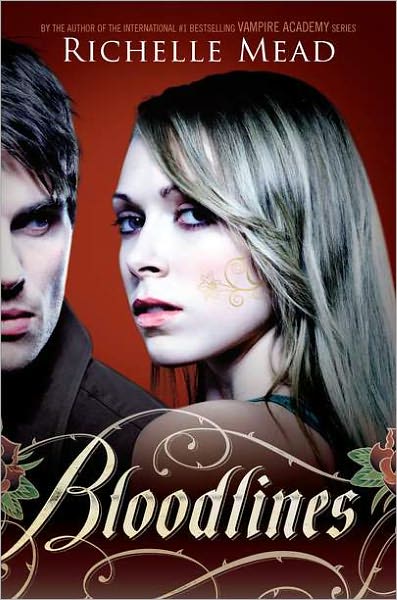 By:
Richelle Mead
Published:
August 2011 by Razorbill
Format:
Hardcover, 421 pages
First Reviewed:
August 2011
Buy:
Barnes & Noble
//
Books-A-Million
//
Amazon
//
Book Depository
Add it on Goodreads
When alchemist Sydney is ordered into hiding to protect the life of Moroi princess Jill Dragomir, the last place she expects to be sent is a human private school in Palm Springs, California. But at their new school, the drama is only just beginning.
Populated with new faces as well as familiar ones, Bloodlines explores all the friendship, romance, battles and betrayals that made the #1 New York Times bestselling Vampire Academy series so addictive - this time in a part-vampire, part-human setting where the stakes are even higher and everyone's out for blood.
Rating:
5/5
Eeeeek! Yay! I've never been excited for a spin-off series before, nor have I even been interested in them. The idea of them just makes my stomach queasy, but...this is Vampire Academy (well...technically Bloodlines, now, but whatev...) and Richelle Mead we're talking about here. So obviously I was just as excited for this book as the others. And...it didn't let me down! Such a completely different direction to the VA series. And I loved it!
First: A bit of randomness. Mead loved to use the word "aghast" in this. It made me laugh every time I saw it. And it totally got me thinking about all the other words/phrases she loves. Like "through gritted teeth," which is totally in every book I've read of hers at least a few times. Ha! Oh, and wistful(ly)! Okay, anyway...
As always, I loved her writing! I didn't spot any errors, either, which made me happy. At first, I thought her voice with Rose may have been stronger, but then the more I read, the more I mentally slapped myself for being an idiot. Obviously with Rose being who she is the narrative would reflect that and come off stronger, but Mead gave a perfect voice for Sydney. One that grew as the character did, stronger. Something completely different from the VA series, which I thought was fantastic. (Though, I still prefer Rose, just because...she's Rose.)
Also, I noticed she didn't drop as much background info as she usually does, which also made me happy. And she was just as great with keeping me on my toes and invested in the story as she was with VA. I had a lot of distractions while reading this and then left for pizza with a friend (who I made buy the first VA), but every time I opened the book back up, I was immediately thrust back into the world--which Mead developed into something completely different from what we're used to--and the story. What else can I say? I will forever be a huge fan of Mead.
Not gonna lie: When I first found out this book was going to be narrated by Sydney, like, a year ago, I was weary. I liked Sydney in VA, thought she was a great addition, but I didn't know how to feel about following her through her own series. But after reading this book, I see why Mead picked her. She was the perfect choice. Such a foil to Rose, who's this strong guardian. Sydney's an Alchemist who's been trained all her life to hate vampires of any kind. So we got this innocent character for a lead. One who doesn't participate in anything Rose would have, one who wishes she had the strength Rose had. But then throughout the book, Mead developed her into this strong--in a different sense of the word than Rose had been, while still sharing some of the qualities she wanted from Rose; if that makes sense--girl. One who can only continue developing throughout the series. Honestly, I loved her. Such a difference!
And, here we go: Adrian. ADRIAN! Do I need to say more? Okay, I'll say just a little bit: Still awesome, still witty, still charming, still...Adrian! Just GAH! I. Love. Him. We got to see the same side of him we loved in VA, while getting more of a glimpse into the pain caused from VA. Just...Adrian. I'll leave it at that.
As with VA, Mead knows how to create characters. She knows how to craft them. There hasn't been a single character I've ever disliked. She manages to put such different personalities into everyone that shows up. I loved wondering who exactly was the "bad" one(s), because Mead did a great job of making me guess throughout. I honestly can't say enough. I never thought I'd love new characters (well...the main main ones weren't actually new...but...) as much as I loved characters from the original VA, but I did. Though Rose and Dimitri will forever be my all-time favorites. Just saying.
My immediate thoughts upon reading the description: California? Private school? Oh, hell, Richelle Mead, you're gonna go all preppy on us, ain't ya?! Serious. Not kidding. I was just a little worried. But...jeez, I need to stop doubting Mead. Why would I even do that after VA? I deserve a slap in the face!
This book was nowhere near a preppy storyline. It was intense and, like with the characters, shifted the world into something we haven't seen before in VA. Obviously, VA was full of action and whatnot, but this was more of a mystery. One that had you guessing what was happening, all while wondering what was going to happen. Yes, absolutely, there's action in this as well, but just not to the caliber as VA, which only makes sense. Still, this kept me on my toes--even though I did figure out some things faster than I think Mead meant for the reader too, but still, I really, really loved it.
Also different from VA was the romance element. Or lack thereof. If you've read VA, you know how steamy the romance(s) get, but there wasn't any with Sydney in this. There is attraction and there is the setup for one epic and forbidden romance brewing later on. And I think it completely worked for this. Not only was it another element to give this book a different feel than VA, but it was something that gave more to Sydney's character. There is romance between other characters, though, but I won't say more than that...*wink*
Other things I have to mention: Eep! Rose is in this still! Okay, well, she's only in it for, like, a second, but still. And I love the other characters Mead decided to bring back. And the cliffhanger? Can't wait to see the types of conflicts that surface in the next book from this. Oh, and I really want an awesome golden-lily tattoo like the Alchemists....
I think looking back, I like this book more now than I had while reading, which is really saying something since I loved it while I was reading. Despite the fact that I did figure out some of the twists--totally blame it on my awesome detective skills, though, muahaha!--this has an intensity so different from VA that I loved just as much. This book does, however, remind me of the first VA book, in the sense that I can just tell this series is going to get better and better. Like, I loved this, but the setup now only screams for more intensity, more action, more romance, and more conflicts to come. I. Cannot. Wait.