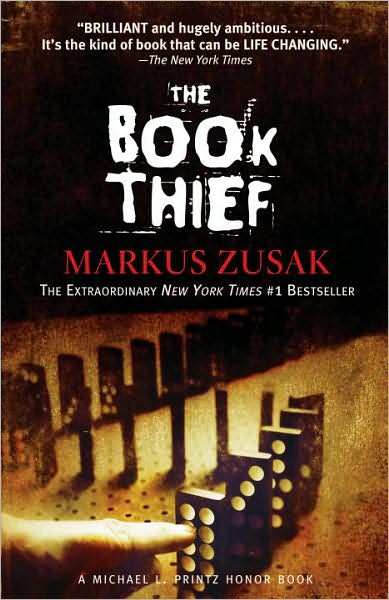 By:
Markus Zusak
Published:
March 2006 by Random House
Format:
Hardback, 550 pages
First Reviewed:
July 2010
Buy:
Barnes & Noble
//
Books-A-Million
//
Amazon
//
Book Depository
Add it on Goodreads
It's just a small story really, about, among other things: a girl, some words, an accordionist, some fanatical Germans, a Jewish fist-fighter, and quite a lot of thievery. . . .
Set during World War II in Germany, Markus Zusak's groundbreaking new novel is the story of Liesel Meminger, a foster girl living outside of Munich. Liesel scratches out a meager existence for herself by stealing when she encounters something she can't resist–books. With the help of her accordion-playing foster father, she learns to read and shares her stolen books with her neighbors during bombing raids as well as with the Jewish man hidden in her basement before he is marched to Dachau.
This is an unforgettable story about the ability of books to feed the soul.
Rating:
5/5
Well...I feel like I just need to just write the word "Amazing," and the word "Incredible," and "Breath-taking," and then leave it at that. I really have no other words, so this will be a review of praise. It really is "an unforgettable story about the ability of books to feed the soul."
First off, I loved the setting. I've always been fascinated (not in the sick way, mind you) of Nazi Germany and the Holocaust. I guess just reading about how people survived and the extremes people went through to keep loved ones and friends safe. So I automatically loved the setting. This story would not be the same without it. Zusak really thought it through down to the streets, and even though this went through years, when it was winter, I felt the winter, and same for other seasons.
The characters were great. Especially the narrator, Death. Zusak gave him a heart. You felt for Death, and he became as real as a human. And each major character had a distinct personality, and I fell in love with them all. There were a few times where I got some of them confused, but I think that was just because I wasn't used to the types of names. That happens to me a lot. But nonetheless, I loved every character.
But the true art of this lies with the writing. A-ma-zing! Incredible. Seriously, where'd this guy learn to write? First, the fact that it was narrated by Death automatically sent the creativity level of this soaring high. And the format -- I won't say what it is just in case you want to find out for yourself -- was so different and unique, and I immediately said, "This is going to be great." This is one of the few YA books that I've read where the writing is very mature. Zusak didn't "dumb himself down" to talk to young adults. I never once lost interest and Zusak's words kept forcing me into this story. I felt as though I was there. The only thing that did bother me a bit was "Jesus, Mary, and Joseph!" Okay, not the phrase, just that it was repeated a lot. And that may just be because every time I saw it, it wasn't the character saying it, it was the dude from the first Rush Hour movie. (If you haven't seen it, there's a character that says it in there, and I just couldn't help it, so maybe that's why it bothered me a bit; y'all should see Rush Hour by the way.) However, I have nothing negative to say about his writing at all, only that I wish I could write like him.
Do I really need to say it again for the plot? Yes. Yes, I do. Amazing. Beautiful. Gripping. -insert all those other amazing words- I just...I really can't say much more than that. This is one of the few books where the ending gave me chills. Literally. And
when
you read this, you might want to grab some tissues. But there's humor as well. I just...I really can't say anything else over than it was simply amazing. It's really something that deserves to be read. An instant classic, for sure. Read it, you Samensch!