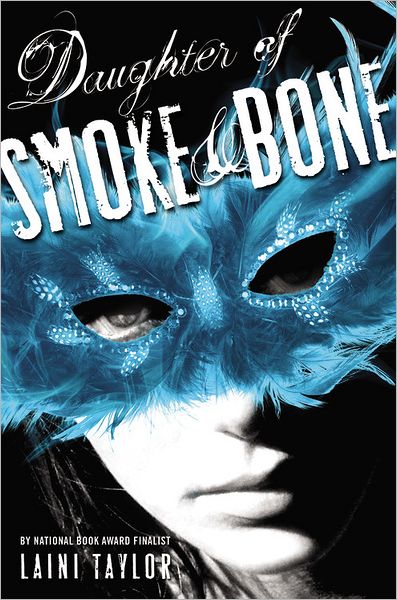 By:
Laini Taylor
Published:
September 2011 by Little, Brown
Format:
Hardback, 417 pages
First Reviewed:
October 2011
Buy:
Barnes & Noble
//
Books-A-Million
//
Amazon
//
Book Depository
Add it on Goodreads
Once upon a time, an angel and devil fell in love. It did not end well.
Around the world, black handprints are appearing on doorways, scorched there by winged strangers who have crept through a slit in the sky.
In a dark and dusty shop, a devil's supply of human teeth grown dangerously low.
And in the tangled lanes of Prague, a young art student is about to be caught up in a brutal otherwordly war.
Meet Karou. She fills her sketchbooks with monsters that may or may not be real; she's prone to disappearing on mysterious "errands"; she speaks many languages--not all of them human; and her bright blue hair actually grows out of her head that color. Who is she? That is the question that haunts her, and she's about to find out.
When one of the strangers--beautiful, haunted Akiva--fixes his fire-colored eyes on her in an alley in Marrakesh, the result is blood and starlight, secrets unveiled, and a star-crossed love whose roots drink deep of a violent past. But will Karou live to regret learning the truth about herself?
Rating:
5/5
Eep! My most anticipated read for this month. I could not wait to fall into it, as I'd heard so many wonderful things. Of course, you all know how hype doesn't always mean greatness, but in this case, I don't think the hype's enough. Fan. Tas. Tic.
Where in the world have I been?! Why haven't I heard of Laini Taylor before now? And why haven't I read her other books? I mean...wow. From the get-go, I was blown away. Taylor has an amazing way of making her narrative mature while giving it voice without losing the voice of the characters (this is in third person). Pure talent right there.
The writing was one of my favorite things about this book. It was so fresh and strong and well-balanced, with sentences/metaphors/etc. that made me literally go, "Wow, that was an amazing line." She threw in humor and emotion, and the dialogue was great and balanced well with the prose. I have not one negative thing, really.
All while reading this, I didn't feel like I was reading a YA novel, which makes it all the better, and that was solely because of the maturity of the writing. Taylor didn't "dumb" herself or the characters down; she wrote a story with a teen lead that will appeal to many of all ages. Definite cross-over writing that I love to see. Just fantastic. Taylor's on the favorite author's shelf for good.
Something I've yet to mention about Taylor: Her imagination. She has an incredibly vivid imagination and it showed through these characters. But not only were their appearances different and unique, but they didn't have cookie-cutter personalities either.
Our lead, Karou, was a great lead. I loved her personality and believability. Akiva had a mysteriousness about him that wasn't shoved in our faces, but was clear enough to keep me curious. I also love how he was considered (look-wise) drop-dead gorgeous (there's a reason, I promise), but he didn't know it. And Zuzana? Loved her. And Brimstone? Loved him too. And everyone else? Loved them too. While I don't think the characters were really what drove the story (for me, that was the plot and the writing), they were all extremely well done.
Taylor put subtle twists on some of the cliches and made them her own, while keeping the aspects that readers love and that fit well with the story. She didn't try too hard or give too much or too little of any of the characters' thoughts/actions/etc. As with her writing, everything with the characters was well-balanced and great.
Okay, listen up! You want to write a story dealing with popular themes? In this case, Angels and demons. This is how you do it. You get original. Taylor got original. Completely original. Like I said, her imagination is spectacular. This was clear from the very beginning. In fact, I remember stopping just to update on Goodreads how amazing her imagination is.
Taylor took the overdone theme of angels and demons falling in love or something of the sort and molded it into this incredible ride. There was action that kept me on my feet, some shocks and twists that swept me off those same feet, and even humor that had me giggling under my breath. Taylor created another world that not only felt real, but that was also unique and mysterious to both the main character (in ways) and me.
Speaking of mystery, I loved being curious throughout this, never quite knowing exactly the answer to something right away. Taylor even left us off with questions, but the good kind that make me itch--get it, those who have read this? :)--to get my hands on the next one. Really, this entire story was just captivating. I couldn't put it down at all. And the best part for me? I loved how Taylor mixed in messages. That this wasn't just a great story, but she also weaved in brillant messages about hope and pain and wishing and how they can work. How magic is real in so many different ways. Just amazing.
Okay, so, I totally kept getting some of the characters' genders mixed up. Ha! My brain kept attaching genders to names, which would be backwards, and yeah...oh dear. Anyway, just thought I'd mention that this was a very clean book. There are few uses of language and a nude paint scene in the beginning, but other than that, Taylor kept it clean. Oh, and can I say how much I prefer the UK cover to ours? 'Cause I do.
Decisively, absolutely, unequivocally stunning. A fresh, unique read with narrative that uses a bunch of others in YA today for toilet paper (no disrespect, I promise; it's just true). Taylor blew me away, and I can't believe I'd never heard of her before now. She grabbed me from the first page and kept me all the way throughout, crafting a story of utter brillance, balanced with humor, action, adventure, mystery, and everything in between. A story that not only satisfies the reader who just wants to leave the real world for "Elsewhere," but that also delivers beautiful messages. Amazing.