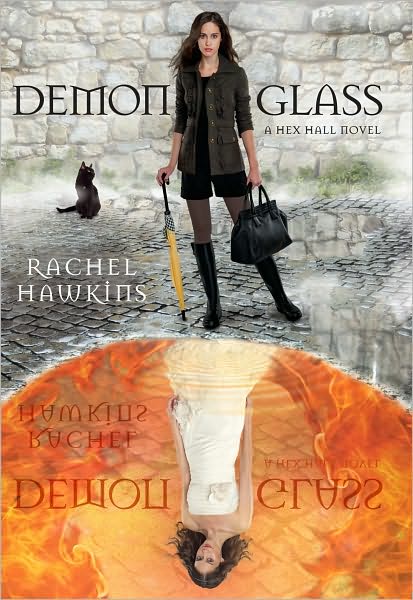 By:
Rachel Hawkins
Published:
March 2011 by Hyperion
Format:
Hardback, 359 pages
First Reviewed:
April 2011
Buy:
Barnes & Noble
//
Books-A-Million
//
Amazon
//
Book Depository
Add it on Goodreads
Sophie Mercer thought she was a witch.
That was the whole reason she was sent to Hex Hall, a reform school for delinquent Prodigium (aka witches, shapeshifters, and fairies). But that was before she discovered the family secret, and that her hot crush, Archer Cross, is an agent for The Eye, a group bent on wiping Prodigium off the face of the earth.
Turns out, Sophie's a demon, one of only two in the world—the other being her father. What's worse, she has powers that threaten the lives of everyone she loves. Which is precisely why Sophie decides she must go to London for the Removal, a dangerous procedure that will destroy her powers.
But once Sophie arrives she makes a shocking discovery. Her new friends? They're demons too. Meaning someone is raising them in secret with creepy plans to use their powers, and probably not for good. Meanwhile, The Eye is set on hunting Sophie down, and they're using Acher to do it. But it's not like she has feelings for him anymore. Does she?
Rating:
3/5
After reading Hex Hall, I wasn't overly excited to read this. I thought that book had just been okay, but then I read some reviews of Demonglass and got a bit more pumped for this one. To say I was expecting a major improvement would be an understatement. Do I think Hawkins majorly improved? Absolutely!
I enjoyed this book far more than Hex Hall. In my review of the first book, I said I thought Hawkins was going to grow, and grow she did. Sophie was much more developed in this and no longer reminded me of a young, immature teen who tried her hand at sarcasm. In this, she was stronger and her sarcasm and wit was natural and actually had me laughing out loud at some points. Major development with her.
Then the plot itself turned from overdone and cliche to original and engaging and had me wondering from start to finish what was going to happen and whose intentions were bad and whose were good. I was impressed in the development in this area as well. Really had me wondering what Hex Hall would have been like if Hawkins had taken the originality she put in this and had it in that one. Then again, it's nice to see how she's growing as an author.
The few things that bothered me weren't major, but worth mentioning, methinks. (Semi-spoiler), Sophie has never met her dad until this book, and I felt she established a relationship and comfort with him far too quickly. I thought that would have been a great sub-plot that wouldn't have made things too complicated. It would have just brought more to Sophie and her father if she, I don't know, called him James or Father/my father before jumping straight to calling him "Dad." Also, I felt just a few scenes could have used a bit more development. Like I said, Hawkins improved tremendously, but there were just a few scenes cut short.
I had one more critique on my mental list, but I already forgot. Ah, crap...oh, no, I remember! There was a section where part of the mystery became predictable. It wasn't the entire mystery/secret, of course, but just a part where I thought, "Duh, I know it's _________." But that was only once, which is probably why I'd forgotten about it so quickly. Ha! Note to self: Take more than mental notes.
Anyway, overall, this was much, much better than Hex Hall. The improvement was great to witness. If anyone read Hex Hall and didn't care of it much, I highly suggest picking up the sequel. Hawkins brings so much more to the characters and the plot and left us with a great cliffhanger.