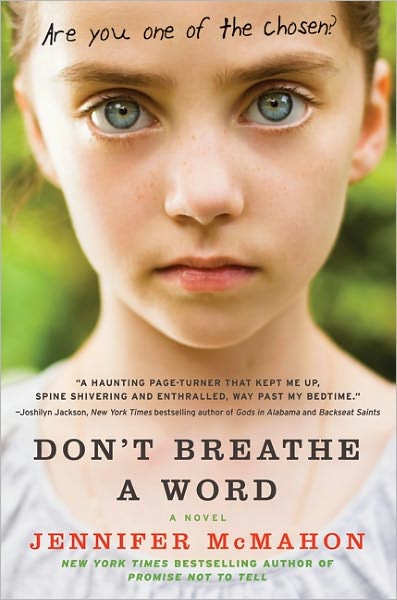 By:
Jennifer McMahon
Published:
May 2011 by Harper Paperbacks
Format:
Paperback, 447 pages
First Reviewed:
August 2011
Buy:
Barnes & Noble
//
Books-A-Million
//
Amazon
//
Book Depository
Add it on Goodreads
Are you one of the chosen?
On a soft summer night in Vermont, twelve-year-old Lisa went into the woods behind her house and never came out again. Before she disappeared, she told her little brother, Sam, about a door that led to a magical place where she would meet the King of the Fairies and become his queen.

Fifteen years later, Phoebe is in love with Sam, a practical, sensible man who doesn't fear the dark and doesn't have bad dreams—who, in fact, helps Phoebe ignore her own. But suddenly the couple is faced with a series of eerie, unexplained occurrences that challenge Sam's hardheaded, realistic view of the world. As they question their reality, a terrible promise Sam made years ago is revealed—a promise that could destroy them all.
Rating:
4/5
This may sound strange to some of you, but it's the truth: This is my first adult read in a long time. I don't even remember the last adult book I read, or really why I always head straight for the YA section at a bookstore. Maybe because adult books are so much more expensive...anyway. I saw this book advertised on Goodreads, and the creepy cover was too awesome not to check out, so when my mom grabbed it at the bookstore, I was like, "Yes! Get it!" So I could read it of course. And I'm so glad I did!
It's funny how you can automatically tell the difference between an adult book and a YA book by just the writing alone. Character age aside, that much tells you right off the bat. It was nice diving into more mature writing with McMahon, but I'll be honest when I say I expected more. Much of it seemed a bit too simple, too easy. Repetition with things like "stomach cramps."
But...really, that's the only nitpick I have for McMahon's writing. It wasn't my favorite writing, for no reason in particular, but I rather enjoyed it. She has a unique voice and I loved some of her sentence structuring. And I really appreciated her ability to write dual third-person narratives. Character voices shined through while the main author's voice stayed consistent, so that was a plus.
Sometimes the dialogue felt a little forced, or narrative-y, but pretty great all around. And the main thing I have to applaud McMahon on is her creepy-vibe-creating skills. She really had my skin itching with some of this stuff.
I've said this before--can't remember which book(s)--that multiple characters don't sit too well with me unless the author pulls the characterization off well. And McMahon sure did. For one, this is told through alternating perpectives, going back and forth between Phoebe (present day) and Lisa (fifteen years ago), and I got just as much from the characterization in Phoebe's chapters than I did in Lisa's.
Phoebe first. I only had one tiny issue when it came to her character, and that's that she was a little slow to figure out some things. Sometimes I just wanted to say, "Girl! The answer is literally right in front of your nose! Hello!" But that was it. Otherwise, I thought she was a strong character. Broken upbringing shaping her into the woman she became and that came through without McMahon throwing it in our faces. I loved her small traits and tendencies, and she felt real, with concerns and emotions that only seemed fitting.
And...Evie! My name! My name! My name! *parties* Okay, anyway, I loved Evie. And no, not because we share the same name. She was my favorite character because she was so mysterious. From childhood Evie to adult Evie, I never truly knew her, yet I knew her better than anyone else. She was, in a sense, the center of this whole book for me. Knows everything, yet nothing. Does things no one can understand, yet for certain reasons. Smart yet dumb. Big yet small. I really enjoyed Evie.
The rest of the characters I feel like I should clump together. Not because they weren't all different, but because they were all equally as strong. Dealing with characters who are kids in part of the book and adults in the other can be hard, but McMahon pulled it off. It was interesting to see these characters grow up to be the opposite to what everyone thought. Each had a purpose, each had secrets of some kind, and each were creepy in their own way. I like creepy.
When's the last time you've been creeped out? I can't tell you the last time a book creeped me out. Not like this. Don't Breathe a Word sent shivers up my spine from the very beginning. I'm not one for fairies, just so everyone knows where I started this, but that didn't even matter as I read. Normally, I'd just be rolling my eyes, but fairies creeped me the heck out in this. And now McMahon's got me questioning every thing I see out of the corner of my eye...thanks, thanks a lot.
Anyway, I pretty much loved this plot. I didn't want to put the book down and got frustrated when I had to. In the beginning, we're introduced to Phoebe and thrust into her world fifteen years ago for the prologue, then brought to the present with her, and then we meet Lisa fifteen years ago. At first, I had no clue where it was going, but I knew I liked it. I knew it was creepy and creepy is awesome regardless.
This book had me running wild with confusion, in the good way. The confusion the characters were feeling. I was so caught up in the mystery, trying to figure out what was real and what was not. Fairies? Or not? Who's who? Who knows what? Who's not saying what they need to be saying? McMahon took me on a crazy ride that had me wondering what in the world was going on and what in the world was going to happen next.
The one place it fell flat for me was at the end. I liked the whole idea of the "not completely sure" ending, but I didn't particularly care for this ending. It almost felt too...hmm...like those movies where they just have to end on a cliffhanger? I think we would have been better off without the whole baby drama with Phoebe (if you've read the book, you know what I mean).
Spoiler!
: I think it would have been better if McMahon didn't have Phoebe pregnant throughout, and instead just made her pregnant in the end. It just seemed like it'd been done so much before. Also, the events leading right up to the ending (within the last...er...50-60 pages or so), I felt it was too much to take in at once and I found myself a bit too confused.
Anyway, overall, I really loved it. I was on the edge of my seat, curious with Lisa and confused with Phoebe. And the best part: I was creeped out.
Other: Okay, the ten-year age difference was just strange to me. I mean, I know it happens, as one of my teachers was ten years older than her husband, but still...it was weird. And there were a couple of loose ends I wish would have been tied up in Phoebe's head anyway, if not everyone's. I would have loved to see her ask Becca about the fifteen years ago...if you've read the book, you know? Oh, and I found an error! :) I don't remember what it was...or where, but I found it! And warning: There's a little bit of language (not too much) and some sexual scenes and disturbing talk (about things that happened in the past, not like they made nasty jokes or anything).
This book was a great start to getting back into adult books. It reminded me why YA gets on my nerves so much sometimes. McMahon delivered a strong narration with characters I loved following. The tale was haunting and original and still has me in shivers. It was a book I didn't want to put down, and if the ending had been a bit more satisfying and less of a "must-have cliffhanger," this would have been five stars. Great read, and I highly recommend it!