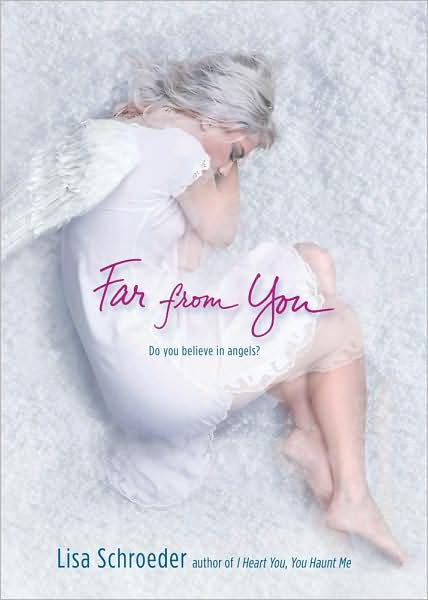 By:
Lisa Schroeder
Published:
January 2010 by Simon Pulse
Format:
Paperback, 355 pages
First Reviewed:
August 2010
Buy:
Barnes & Noble
//
Books-A-Million
//
Amazon
//
Book Depository
Add it on Goodreads
Do you believe in angels?
Lost and alone...Down the rabbit hole.
Alice thought she knew
what solitude was:
Her mother—gone.
Her father—remarried with a newborn
daughter.
Now...
Trapped
in the icy embrace
of a deadly snowstorm,
Alice faces the true meaning of loneliness.
But hope
may not be as far away
as she thinks....
Rating:
4.5/5
If you've read my other two reviews of Lisa Schroeder's books, I Heart You, You Haunt Me and Chasing Brooklyn, then you already know that I was excited to dive into this one. I have to admit, at the beginning I didn't know if I was going to like it as much as I liked her other two, but this actually ending up being my favorite of hers.
I loved the main character, Alice, in this. She had a great voice, and I really wanted to follow her throughout the book. She had many different, relatable traits, which I liked. Also, the major-minor characters were also well-developed, each with their own personality. There weren't any characters that I didn't like, and Mrs. Schroeder even gave the baby a personality. I loved that about this.
I'm still a huge fan of the writing style, and I think this made me love her work even more. I'm definitely hoping she writes more of these types of books. She's now ranked with Ellen Hopkins with verse-style books for me. They're both different, of course, but they both have that amazing quality to their writing. She made me feel so many emotions right along with Alice, and I think that's something that lacks in a lot of books today.
Honestly, I thought it was inspiring, beautiful, relatable (there's something in it for everyone), and all-in-all something that really touched me. You don't have to be a Christian (I'm not) to get the moral and meaning behind this. It reaches on so many different levels. I really can't say enough about about how beautiful I thought this was. Extremely well paced, crafted, and written of course. I have to admit that it started a little bit slow for me, but after a few pages, I could not put it down. I read it without moving an inch.
A very good read, and I highly recommend it.