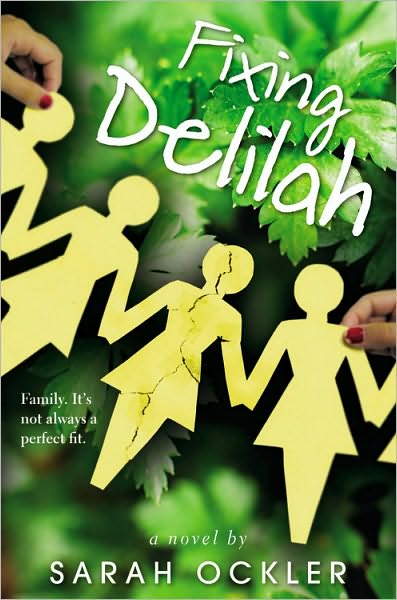 By:
Sarah Ockler
Published:
December 2010 by Little, Brown
Format:
Hardback, 308 pages
First Reviewed:
February 2011
Buy:
Barnes & Noble
//
Books-A-Million
//
Amazon
//
Book Depository
Add it on Goodreads
Family. It's not always perfect.
Things in Delilah Hannaford's life have a tendency to fall apart.
She used to be a good student, but she can't seem to keep it together anymore. Her "boyfriend" isn't much of a boyfriend. And her mother refuses to discuss the fight that divided their family eight years ago. Falling apart, it seems, is a Hannaford tradition.
Over a summer of new friendships, unexpected romance, and moments that test the complex bonds between mothers and daughters, Delilah must face her family's painful past. Can even her most shattered relationships be pieced together again?
Rich with emotion, Sarah Ockler delivers a powerful story of family, love, and self-discovery.
Rating:
5/5
You know, I've never really been a general fiction person. At least not until recently. So I'm always weary of starting new general fiction novels. For the first couple of pages of Fixing Delilah, I wasn't sure if I would like it. After those few pages past, I was completely hooked and devoured this book. It now rests comfortably on my favorites shelf.
First, I have to say I loved the setting because it's not one that's overused. Vermont? I don't think I've read a book set there...ever...now that I think about it. Not to mention it was summer and in Victorian-styled houses. You all know those are my favorite! Descriptive enough for me to feel as though I was there, as well, without overdoing it.
I fell in love with Ockler's characterization. There are very few books I read where the characters (all of the characters) feel like real people instead of characters. All of these characters felt real. Their personalities were all different, their voices were, everything. They felt so natural that I got the emotion from them. Completely. Right off the bat. Honestly, this is some of the best characterization I've ever seen.
The writing was stunning. Beautiful. Descriptive. I felt Ockler's emotion through this. It didn't feel like a writer had wrote this. It felt like Delilah did. The dialogue was just as natural as the characters speaking it. The descriptions and details felt like things Delilah would notice and not like ones the author wants the readers to notice. In this day and age, I'll admit I usually skim over long bouts of prose if I'm not completely engaged, but I never did that once with this book. Ockler's writing completely captured me. It's simply beautiful.
The story itself was also amazing. Literally took my breath away. You know a book is good when you start getting feelings in your stomach and heart while you're reading. The plot was so well-paced and the perfect blend of family, romance, and personal growth from Delilah. From the minute I got settled into Delilah's head and story, I felt everything that was happening. I found myself feeling what she was feeling. There was even a good twist in this that I never saw coming. I thought I had it figured out--what was going to happen--but I was completely wrong, and that made me happy. I could go on and on about how much this book touched me and really made me feel, but I won't. All you need to know is that this is one of the best books I've read.
Random fact: I kept wanting to called Delilah "Delia" since before I started the book (don't ask why...I don't know).
Anyway, this was just beautiful. Full of meaning. Absolutely amazing. I honestly can't wait to get to Sarah Ockler's other book. If it's anything like this...Sigh. Just amazing.