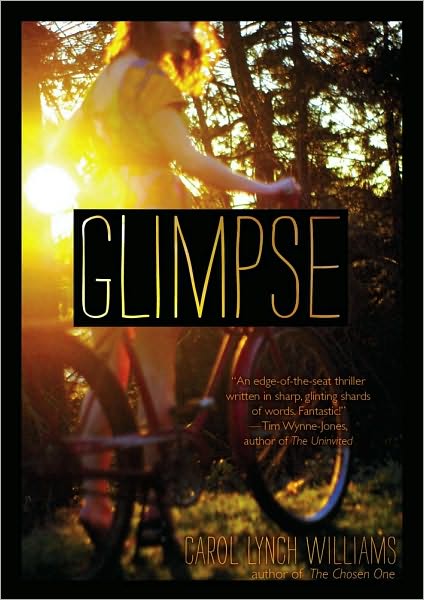 By:
Carol Lynch Williams
Published:
June 2010 by Simon & Schuster
Format:
Hardback, 484 pages
First Reviewed:
July 2010
Buy:
Barnes & Noble
//
Books-A-Million
//
Amazon
//
Book Depository
Add it on Goodreads
Even sisters have secrets. Big secrets. With Lizzie in lockdown, can Hope discover the truth and save her sister, or is it already too late?
Twelve year old girl Hope's life is turned upside down when her older sister Lizzie becomes an elective mute and is institutionalized after trying to kill herself. Ever since their dad died Hope and Lizzie have relied on each other from a young age. Their mother is a reluctant and unreliable parent at best, who turns tricks to support the family. Throughout the course of this lyrical and heartbreaking narrative readers and Hope discover that the mother is prostituting Lizzie and it's up to Hope to bring the truth to light to save her sister.
Rating:
4/5
As a fan of Ellen Hopkins, I was excited to see another book written in poetry form. The premise also intrigued me. I was immediately pulled into this book, and it forced me to read it all practically in one setting. Real life was the only keeping me from finishing it in one day. It was definitely a tear-jerker, and had my emotions going crazy.
Beautifully written. The main character, Hope, was very well developed, and Williams made me feel for her immediately. My only "negative" would be that she sounded much older than twelve. But maybe that's just me. Although, that didn't take me away from the story or anything. Even the minor characters were well-developed. Williams had the perfect balance of "good" characters and characters that we want to despise. Overall, I enjoyed the characters very much.
Really enjoyed the writing style. I would love to see more of her work like this. The poems/chapters each had a great rhythm to them, which made it easy to read. I think there were only a few that I had to read over to get the feel for them. But not many at all. And she managed to really capture the emotions so well just as much as with a prose-written novel. Poetry, for me, is often hard to give across emotion when telling stories, but Williams never once lost it. Her stanzas and lines were beautifully phrased.
The plot itself was beautiful. Sad. Gripping. Heart-wrenching. Emotional. --insert more stunning words here-- In the beginning I thought it would be predictable, but it wasn't at all. I didn't know what was happening with Lizzie, and I found myself being clueless right along with Hope, wanting to find out what was happening with "my" sister. And I loved that about this. There were a few times were I felt the plot jumped a around a tad, but that didn't bother me too much because I was so thoroughly engrossed.
Overall, I really liked this. And I hope so much that Williams writes more books like this. There are a few more "mature" elements to this, though. Just a little forewarning, but it's not explicit at all.