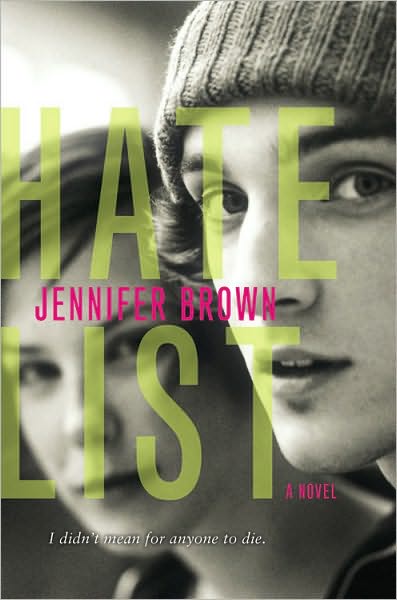 By:
Jennifer Brown
Published:
September 2009 by Little, Brown
Format:
Paperback, 405 pages
First Reviewed:
July 2011
Buy:
Barnes & Noble
//
Books-A-Million
//
Amazon
//
Book Depository
Add it on Goodreads
I didn't mean for anyone to die.
Five months ago, Valerie Leftman's boyfriend, Nick, opened fire on their school cafeteria. Shot trying to stop him, Valerie inadvertently saved the life of a classmate, but was implicated in the shootings because of the list she helped create. A list of people and things she and Nick hated. The list he used to pick his targets.
Now, after a summer of seclusion, Val is forced to confront her guilt as she returns to school to complete her senior year. Haunted by the memory of the boyfriend she still loves and navigating rocky relationships with her family, former friends and the girl whose life she saved, Val must come to grips with the tragedy that took place and her role in it, in order to make amends and move on with her life.
Rating:
5/5
This book had been one I'd debated about reading for a few years. I never picked it up just because I didn't think it would interest me. But then more and more people kept recommending it, and when I saw it and Brown's second book (of no relation to this), I just had a hunch that I needed to get them. Then when I found out the author is from my city (eeek!), I moved them way up on my to-read list. Oh my gosh...I don't even know what to say, to be honest. Be prepared for a very, very gushy review.
Every so often there's a book that comes along where the crafting of the book as a whole (all elements included) is so good that I don't pay attention to the writing or style at all. This was one of those books. There are very, very few books I read where I don't even think about the writing, let alone analyzing it. I just...Brown's fantastic. The way she gave Valerie a voice that not only felt natural, but also very authentic, consistent, and full of raw emotion, was refreshing and I loved every bit of it.
Also, it was almost as though Brown spoke to every person (not just girls) in the world who has been bullied, in a bad family situation, or been depressed, and somehow managed to put everyone's thoughts into one character's head. I bet I'd have a hard time finding someone who's read this and didn't see themselves in Val in one way or another. Male, female. Young, old. Brown is just a genius in that respect.
What I also loved was the way Brown handled the different past and present sections. That was done in a way that was never confusing and the transitions were always at the right time. There's nothing for me to nitpick about--maybe the word "like," a couple times too many--and that is a rarity. I was just so caught up in Val's story that thinking about the writing was the last thing on my mind, and that is some serious skill.
I can count on one hand the number of main characters whom I have completely related to, whom carried all the perfect emotions in the midst of a tragedy, and whom I felt that emotion dipping from them as though they were standing next to me telling their story. Valerie joins that small group of characters without a doubt. I don't even know what to say about her. Instead of being this whiny, woe-is-me girl, which could have definitely happened, she was this withered flower that was just fighting to find hope. For someone to go through something like this, the feeling and thoughts have to be real, and they were. Val just felt completely, utterly real. I cried for her, I rooted for her, I was even mad at her during the times that she was (rightfully) angry with herself.
Then you have Nick. You'd think with a book like this, you'd hate someone who just opened fire and killed and wounded people. But...I didn't hate him. I hated what he did, but he was this human being. This completely broken human being who didn't have the right people to turn to, and to the few that he could have turned to, they were hurting like him, too. I felt for him, for his parents, for all those whose lives he took and changed forever. He was such a complex and interesting and realistic character.
As for everyone else, I'll keep it simple: They were all just as real as Val and Nick. From the parents, to the other students, to the doctors, etc. Everyone--even the most minor character--had these distinct personalities, which made this feel even more real, as those I was living the story and observing rather than reading about it. This was greatly because of the characterization. Wonderful.
Honestly, I don't know what to say. I just...don't know what to say. When I had first heard of this book, I thought,
Why would I want to read about something like that?
But, it was just so much more than a school shooting and it's aftermath. Frankly, I think if any other writer had tackled this plot, it would have been a train-wreck. But Brown gave so much to this, as though she literally poured her heart and soul into it. The emotion I already mentioned, but it's really the driver of this story. Without that believability, this would have fallen through. But it didn't.
The story shifts between the past and the present, so we got to witness the shooting, the immediate aftermath, and then half a year to a year later. It just...gosh...I'm speechless, trying to think of what to say other than "This was amazing." I just, that's exactly what it was. Brown threw in conflict, both hopeful and scary situations, beautiful scenes, scenes that made me fill with anger, scenes that made me tear up (I totally cried at the end), and there were just so many aspects to this that makes it much, much more than a book about a school shooting. In lamen's terms, I loved it.
Other: The guy on the cover looks just like how I pictured Nick. Ha! I thought that was cool. And I really loved how some of the chapters had colored in tears at the beginning, while others were empty. Empty tears vs. Tears full of something. Very interesting. And can I just say one more time how much I related to Val? Emotion-wise, pretty much. Just...one of my all-time favorite characters.
There's not much more to say other than this book blew me away with the amount of emotion it gave, how real Val was, and how the story became much more than a book about a school shooting. It was a story about finding hope, understanding, and moving on, but never, ever forgetting. This is forever a top favorite of mine. It was amazing, breath-taking, beautiful, and sends a bouquet of messages that just must be heard. Incredible.