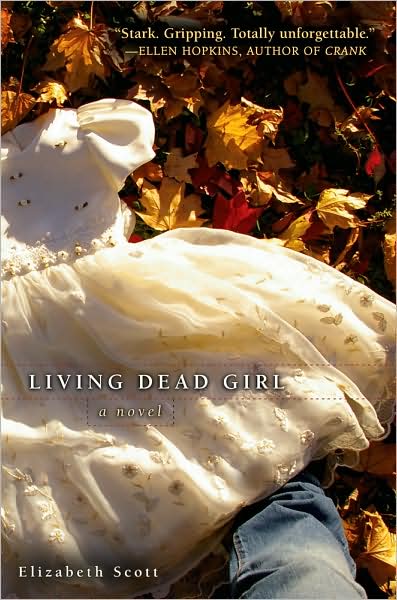 By:
Elizabeth Scott
Published:
September 2008 by Simon Pulse
Format:
Hardback, 170 pages
First Reviewed:
July 2010
Buy:
Barnes & Noble
//
Books-A-Million
//
Amazon
//
Book Depository
Add it on Goodreads
Once upon a time, I was a little girl who disappeared. Once upon a time, my name was not Alice. Once upon a time, I didn't know how lucky I was.
When Alice was ten, Ray took her away from her family, her friends – her life. She learned to give up all power, to endure all pain. She waited for the nightmare to be over. Now Alice is fifteen and Ray still has her, but he speaks more and more of her death. He does not know it is what she longs for. She does not know he has something more terrifying than death in mind for her. This is Alice's story. It is one you have never heard, and one you will never, ever forget.
Rating:
5/5
I loved the way it opened. It was definitely different from anything I've read, and right way Elizabeth Scott's style was clear. I immediately liked it and could not put it down! It's very short, but it was all worth it.
I really liked the setting with this. It was very interesting and clashed (in a good way) with the dark interior of "Alice's" world. That was very clever. And I also liked how Scott incorporated "Alice's" childhood home address. I wish the setting would have been described a bit more, but I was too wrapped up in the story to really care as much.
"Alice" was a very, very well-developed, broken character. Scott did a wonderful job making her likable without simply making her a character we're supposed to feel sorry for. I really felt connected to her. Scott also did well making Ray more than just the kidnapper. She made him a person, and even though the readers still hate his guts (like we should), we get reasons about why he does these things, even though they're not flat told to us. And that made him real. The only character I felt fell just a tad bit flat was Jake. I won't say who he his, but I kind of felt there could have been a bit more with him; a bit more realism. But other than that, I really enjoyed the characterization.
This definitely made me a fan of Mrs. Scott. She has a unique style that I've never seen before. She had what I call "Telling with a purpose." There's a lot of "telling" in this, but it's clearly on purpose and fits so well. It actually enhanced this by a long shot. There were only a couple (very few) instances where I had to re-read some sentences to understand. But it wasn't too bad. And sometimes I felt there was a bit too much repetition, but it wasn't overwhelming or anything. I also really liked how she didn't overdo anything. She paced this very well, and she didn't force her chapters; some were only a page or less. Overall, I would like to read some more of her books if her writing stays this way.
The plot was amazing. It's dark, though, so if you can't handle elements of sexual and physical abuse, then you might not like it. But since Scott handled it so well, it really made this a powerful story. The plot was paced well, and I loved how it went back and forth (subtly) between her present life and her past. It also involved the reader, which is something that I liked. It made me feel like I was really in the story, rather than just reading about it. I also loved how it wasn't the typical "Oh, I'm broken and live with someone who kidnapped me" story. Everything mattered, and the simplest things became important. It also showed how easy it is these days for someone to be taken away.
Finally! A book that I wouldn't mind reading again. I would love, though, for maybe a sequel. The ending really left me wondering what happened to "Alice" because I became so connected with her and how she was going to survive the rest of her life. Then again, I think the mystery only made it better. This is definitely a story that will stay with me.