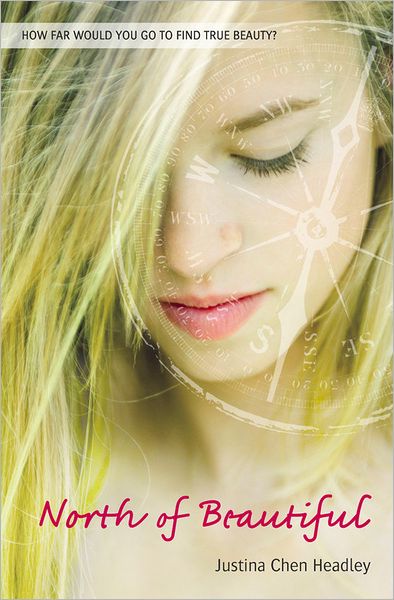 By:
Justina Chen Headley
Published:
February 2009 by Little, Brown
Format:
Hardback, 373 pages
First Reviewed:
January 2010
Buy:
Barnes & Noble
//
Books-A-Million
//
Amazon
//
Book Depository
Add it on Goodreads
You're the one who asked-and I repeat-Why not fix your face?
It's hard not to notice Terra Cooper.
She's tall, blond, and has an enviable body. But with one turn of her cheek, all people notice is her unmistakably "flawed" face. Terra secretly plans to leave her stifling small town in the Northwest and escape to an East Coast college, but gets pushed off-course by her controlling father. When an unexpected collision puts Terra directly in Jacob's path, the handsome but quirky Goth boy immediately challenges her assumptions about herself and her life, and she is forced in yet another direction. With her carefully laid plans disrupted, will Terra be able to find her true path?
Rating:
3.5/5
I had seen this book many times when I made my rounds in the bookstore and I had picked it up a few times, but was never too compelled to get it. I liked the description, but nothing was ever grabbing me and yelling at me to get it. After all the good things I heard about it, I was excited to read it, but let me say, I think I may be one of the only people who didn't fall in love with it.
I enjoyed the characters. I thought some of them could have been just a tad bit more developed, but over than that, each character had a good role. There was a good balance between characters to love and characters to dislike. None of the characters annoyed me, but there were a few times that I wondered a bit more about a certain couple of characters. One of them, though, the main character didn't know very well, but one of the others, I wanted a little more insight to and background for.
Overall, the writing was very good, but it just wasn't my favorite style. I'm not a fan of books that start a lot of the sentences with the action, such as, 'Eating, I talked' or 'Sitting down, I did this.' That just irks me for some reason, but others may not mind. I felt the descriptions of many things and characters were done very well, but Ms. Headley somehow wasn't able to keep my attention too well. Although, that's just me. Many others found it too hard to put down, so you must be the judge of that.
I liked the plot. I didn't love it, but I liked it. It's split into 3 parts and for the entire 1st part, I wasn't very interested in what was going on. There were certain chapters that I enjoyed and certain scenes, but I found myself getting bored quite a bit. It wasn't until about the last third of the book that I really started to get into it and love it. Ms. Headley put in wonderful lessons for readers to learn and displayed them in beautiful ways and once she started making that lesson more prominent in the story, the book was unputdownable.
It was a good book. After finishing it, I realized I enjoyed it more than I thought. Is it a book that I'll read again? Eh...I might to see if I get into it more. Is it a book that has still stayed with me after I finished it? Yes. The lesson was a truly beautiful one and that will be with me probably forever.