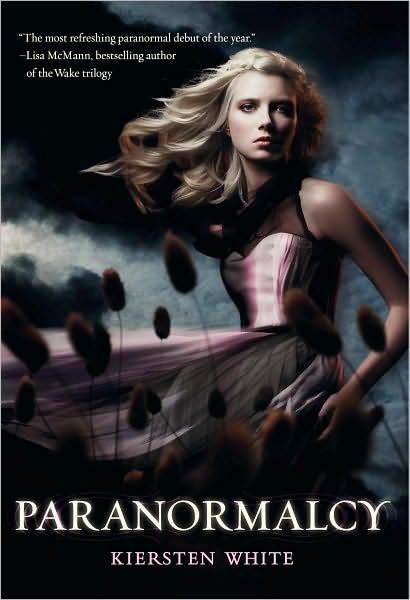 By:
Kiersten White
Published:
September 2010 by HarperTeen
Format:
Hardback, 335 pages
First Reviewed:
April 2011
Buy:
Barnes & Noble
//
Books-A-Million
//
Amazon
//
Book Depository
Add it on Goodreads
I see things you can't see. I find things that hunt you. I am your protector. But even I can't protect you now.
Evie's always thought of herself as a normal teenager, even though she works for the International Paranormal Containment Agency, her ex-boyfriend is a faerie, she's falling for a shape-shifter, and she's the only person who can see through paranormals' glamours.
But Evie's about to realize that she may very well be at the center of a dark faerie prophecy promising destruction to all paranormal creatures.
So much for normal.
Rating:
4/5
Confession time: I wanted and expected to hate this book. For three reasons: 1) Everyone kept calling this a refreshing paranormal read, and every time someone has said that, I've one- or two-starred the book. 2) It had tons of creatures in it. I'm not a creature person, especially not when it comes to faeries. And 3) Most importantly, it was so (excuse the language, it feels appropriate) damn hyped up, and that annoys me to no end. However, I...really enjoyed this, from beginning to end.
I loved the whole Containment Agency setup. That was a nice change to the typical paranormal schools that we read about 90% of the time. My main issue was with the descriptions. For the majority of the time, places were described well, but then there were other times where I struggled to get into the setting.
You all know this is coming: MY NAME! *big cheesy grin* Evie with the real name being Evelyn. Muahaha! Anyway, bias aside, I actually loved Evie. Her personality was developed from the very beginning, and she's a strong lead. The one thing I felt lacking from her was the emotional depth when it came to sad situations. I would have liked more with that.
As for the other characters, all had very distinct personalities. I didn't completely fall in love with the male lead, but I really liked him. And while I enjoyed the characterization of all the supporting cast, I felt we could have gotten a bit more from the "evil people." A little bit more of the scariness. Overall, though, White has some strong characterization skills, and she stays consistent with them all.
Writing Style:
Pleasantly surprised when it came to the writing. I don't mean this in a bad way. Considering the publishing world has been pumping out commercial paranormal where they're aiming to sell rather than caring too much about the writing, I was expecting the same old commercial writing. You know, the kind where nothing's ever described in more than a couple words, where prose is, like, a paragraph every now and again, and where the narrative is either weak or too teeny-bopper-y.
White's writing is nothing like the above. She has a great narrative voice. Evie's personality could have easily swayed to the ridiculous "I'm sassy and tough and I say and do what I please" that so many authors try for, but White kept that from happening. While I didn't love, love, love the writing, I did like it.The dialogue was realistic, the humor she threw in was both funny and realistic as well, and the only critiques I have are nitpicks, like how she did-- a lot-- of this-- with the dialogue. Sometimes grated on my nerves. And also, I wish she would have given more to the emotional scenes. I could tell those weren't her strong suit.
Not going to lie, the premise is original. I've never read a commercial paranormal like this. First, I felt White dealt with all the creatures extremely well, without it being too much for the reader, but just enough information that we didn't have to wonder about what was what or who was who. I do, though, feel that we got a little info-dumped on, mainly in the beginning. But when it came down to timing, I felt everything unwound at the right place, and I was invested from start to finish. White gives us action where needed, but doesn't overwhelm, nor did I get bored during "down scenes." I do think the romance element could have been developed just a bit more. It felt rushed in some areas, and sometimes even a tad bit unrealistic, but then perfect in others. And last critique: While I loved that we weren't flooded with all the creatures, I felt we could have gotten a little bit more of the non-faeries. But that wasn't too much of a issue.
As I said before, I was pleasantly surprised by this book. I think it can turn out to be a great series, and I will be getting the second one. Loved the narrative and Evie's voice, and I most definitely appreciate the refreshing take on commercial paranormal.