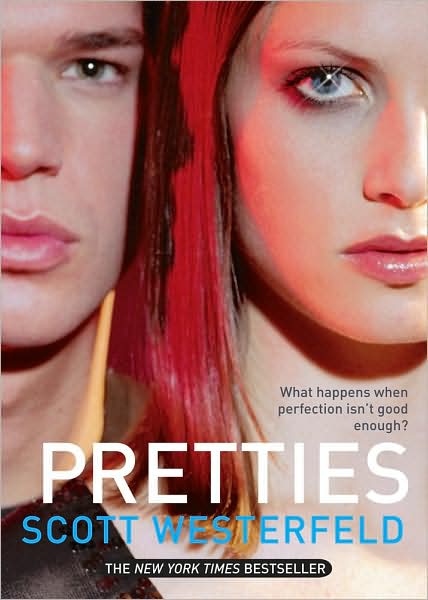 By:
Scott Westerfeld
Published:
November 2011 by Simon Pulse
Format:
Paperback, 370 pages
First Reviewed:
January 2011
Buy:
Barnes & Noble
//
Books-A-Million
//
Amazon
//
Book Depository
Add it on Goodreads
What happens when perfection isn't good enough?
Tally has finally become pretty. Now her looks are beyond perfect, her clothes are awesome, her boyfriend is totally hot, and she's completely popular. It's everything she's ever wanted.
But beneath all the fun -- the nonstop parties, the high-tech luxury, the total freedom -- is a nagging sense that something's wrong. Something important. Then a message from Tally's ugly past arrives. Reading it, Tally remembers what's wrong with pretty life, and the fun stops cold.
Now she has to choose between fighting to forget what she knows and fighting for her life -- because the authorities don't intend to let anyone with this information survive.
Rating:
2/5
As with Uglies, I had a hard time getting into it for the first few chapters. I don't know what it is, but for both of these books it took about 30 pages for me to get into it. And with this one, I never completely did. I was just reading, but not loving.
Mainly, it just wasn't my type of read. I've never been one for overly futuristic dystopians.
I think this is where I lost Tally. I didn't like her in this book. I didn't hate her, but she bothered me. And this is where the writing started to bother me as well. Westerfeld failed to keep my attention and I pushed myself through the book. Partly, I think the reason for that is because of my personal taste, though, and not necessarily about the writing. Or maybe it was a little of both.
The added characters were okay, though I still felt as though the characters were missing something. There were also a few times where I got confused in what exactly happened. The plot was just okay, like the rest of the series. I never truly got into it.
Overall, this was an okay sequel. Oh, there was another little thing that bothered me while reading: Bubbly. All right. It was a creative concept, but that word was used so much that I wanted to yell at the author at one point. I know most people devour this series, so maybe I'm just one of the few who thinks it's just okay.