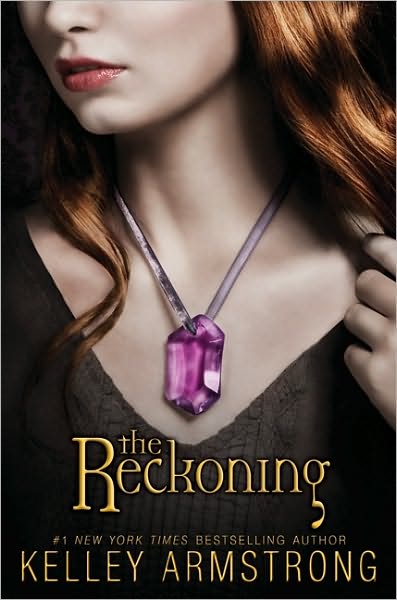 By:
Kelley Armstrong
Published:
April 2010 by HarperTeen
Format:
Hardback, 391 pages
First Reviewed:
September 2011
Buy:
Barnes & Noble
//
Books-A-Million
//
Amazon
//
Book Depository
Add it on Goodreads
In the end, there's always a reckoning.
Chloe Saunders's life is not what you would call normal. First of all, she can't figure out how she feels about a certain antisocial werewolf or his charming brother—who just happens to be a sorcerer. Then there's the fact that she's running for her life from an evil corporation that's trying to kill her and her supernatural friends. And finally, she's a genetically altered necromancer who can raise the dead, rotting corpses and all, without even trying.
Not normal.
But Chloe has a plan. And the end is very near.
Rating:
4.5/5
This is the final book in the Darkest Powers trilogy, and one I've had since it's release over a year and a half ago. The poor book! I never got around to reading it; I just got busy and got new books, and then forgot about it. I'm so happy I re-read the other two and finally got to this. I said in my review of book 2 that if this stepped it up, I'd give it my must-read stamp...well, I'm giving it my must-read stamp.
There's something about this series and about Armstrong's style of writing that makes this one of my favorite reads. Armstrong carries a very mature voice, while still staying young, and also--like I've mentioned in both of the other reviews--she doesn't resort to the silly teeny-bopper plotting, pacing, and characters. She keeps the story the focus, not the romance, not any one single character, and definitely not one plot point.
Like with the other two books, I loved the characterization, and even more so with this book. Chloe became a strong heroine when before she was just likable and solid and a good lead. The boys took a backseat in this book. Not in a bad way--and they were still very much involved and awesome--but the real co-star of this book for me was Tori. I absolutely loved her development throughout the series and especially in this book. She became my favorite character.
As for the plot, it was more intense than the other books. There was more action, more secrets, and more conflicts. It started off with a bang and the ending was fantastic. I was definitely eager to find out what was going to happen and on the edge of my seat. And the romance was great. The first two books have no romance, but sparks. But this book we got a small, realistic, non-distracting romance, which I really liked. I thought it was sweet and almost perfect, though a bit rushed with the first date thing (if you've read this, that should make sense). I would have loved to see that fleshed out just a tad bit more.
Really, though, that's my only compliant. Armstrong added new characters that had me second-guessing everyone's words and actions. And she wrapped things up in a way that still leaves unanswered questions about everyone's futures, but that left me content. It was a great ending to a trilogy.
Like I mentioned, I'm giving this my must-read stamp. For three reasons. 1) It's different from all other paranormal YA books out there. Stays away from cliches, unless the cliches work perfectly, and has some original elements that I absolutely loved. 2) Armstrong's one of the most consistent series authors I've read. Each book stands its own, while keeping with a story that could very easily combine into one, and I loved all three. And 3) This book--the last one--gave me everything I want to see in a finale. Intensity, development, and closure without being a poof! happy ending. I definitely think this series is a must-read for any YA lover. There's much to be appreciated in this. Great, great reads!