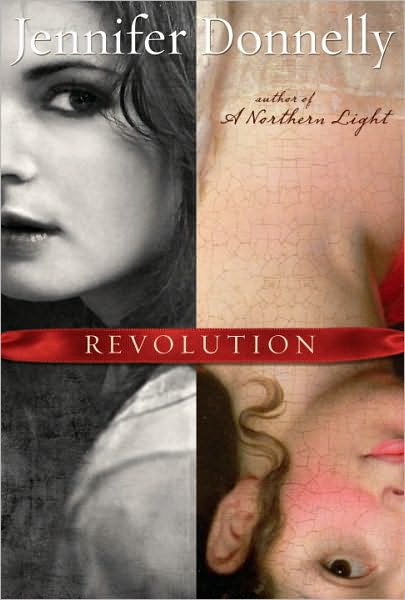 By:
Jennifer Donnelly
Published:
October 2010 by Delacorte
Format:
Hardback, 472 pages
First Reviewed:
January 2011
Buy:
Barnes & Noble
//
Books-A-Million
//
Amazon
//
Book Depository
Add it on Goodreads
One unforgettable account of life, loss, and enduring love.
BROOKLYN: Andi Alpers is on the edge. She's angry at her father for leaving, angry at her mother for not being able to cope, and heartbroken by the loss of her younger brother, Truman. Rage and grief are destroying her. And she's about to be expelled from Brooklyn Heights' most prestigious private school when her father intervenes. Now Andi must accompany him to Paris for winter break.

PARIS: Alexandrine Paradis lived over two centuries ago. She dreamed of making her mark on the Paris stage, but a fateful encounter with a doomed prince of France cast her in a tragic role she didn't want—and couldn't escape.

Two girls, two centuries apart. One never knowing the other. But when Andi finds Alexandrine's diary, she recognizes something in her words and is moved to the point of obsession. There's comfort and distraction for Andi in the journal's antique pages—until, on a midnight journey through the catacombs of Paris, Alexandrine's words transcend paper and time, and the past becomes suddenly, terrifyingly present.
Rating:
4/5
I'd gone back and forth on this book, on whether or not I wanted it. When I had heard about it online, I thought,
Eh, doesn't sound like my kind of read
. But then I saw it in the bookstore, and for some reason it seemed much better. I'm definitely glad I bought it. It was a pretty great read!
Loved the settings! Donnelly captured Brooklyn, Paris, and the eighteenth-century extremely well. No complaints in this department because I felt as though I was there throughout the book.
Andi was a very strong lead. I loved her. She had the perfect balance, and Donnelly depicted her emotions so well, in my opinion. The minor characters I thought could have used a wee bit more development. Some were fine (the major-minor), but there were some who I would get confused on at times.
Still a fan of Donnelly's writing, for sure! Honestly, I'd love to read anything by her. Her writing is fluid, and while this is more commercial than A Northern Light had been, the literary aspects were still there. She captured the language of the eighteenth-century wonderfully and it contrasted so well with the modern day teen. Dialogue was great and realistic, and she even captured the French accents well without over-doing it. Definitely a fan.
I absolutely loved the first third and the last third of the book, but the middle third was where it fell a bit flat for me. I would get pretty confused and even a tad bored at times. Don't get me wrong, it was more than worth it to push through that section because I loved the rest of the book. I just felt like there could have been a bit more to really force me to read in that section. As for the rest of the plot, I could completely tell Donnelly did her research, which was fantastic to see. It made the book seem so much more realistic. I think my only other small complaint would be what I saw in A Northern Light as well, and that's that the ending felt a bit rushed. I think Donnelly wraps things up too quickly. I would have loved a bit more. Also, one my thing, the "tagline" at the top is most definitely true. I got that from this book. The emotion was great!
Still, even though I didn't like this as much as Donnelly's other book, it was still a great, refreshing read and I imagine I'll be re-reading in the future to catch things I missed.