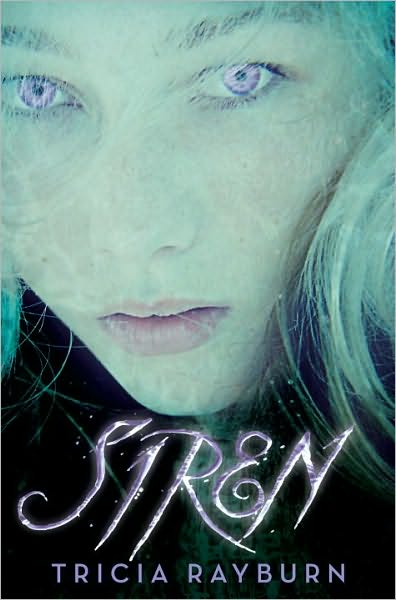 By:
Tricia Rayburn
Published:
July 2010 by Egmont
Format:
Hardback, 344 pages
First Reviewed:
October 2010
Buy:
Barnes & Noble
//
Books-A-Million
//
Amazon
//
Book Depository
Add it on Goodreads
Something deadly waits beneath the waves off Winter Harbor, and this summer, no one is safe.
Seventeen-year-old Vanessa Sands is afraid of everything—the dark, heights, the ocean—but her fearless older sister, Justine, has always been there to coach her through every challenge. That is, until Justine goes cliff-diving one night near the family's vacation house in Maine, and her lifeless body washes up on shore the next day.

Though her parents hope that they'll be able to find closure back in Boston, Vanessa can't help feeling that her sister's death wasn't an accident. After discovering that Justine was keeping a lot of secrets, Vanessa returns to Winter Harbor, hoping that Justine's boyfriend might know more. But Caleb has been missing since Justine's death.

Soon, it's not just Vanessa who's afraid. All of Winter Harbor is abuzz with anxiety when another body washes ashore, and panic sets in when the small town becomes host to a string of fatal, water-related accidents in which all the victims are found, horrifically, grinning from ear to ear.

Vanessa turns to Caleb's brother, Simon, for help, and begins to find herself drawn to him. As the pair tries to understand the sudden rash of creepy drownings, Vanessa uncovers a secret that threatens her new romance—and will change her life forever.
Rating:
2/5
So, originally I was on the fence about this book. I had read a description of it somewhere, and decided against it. But then when I saw it in the store, I read that description and decided to try it out. Eh, it wasn't a waste of time, but I didn't care for it.
The setting was my favorite part of the whole book. I liked the whole atmosphere that was displayed, and I think it really set a good tone for the book. Thankfully, there were enough details for me to picture it well, but I would have liked more.
I think the characters fell flat. I never got any emotion from any of them, which was my biggest problem. I didn't care about them. Half the time I wanted to strangle them for being so...er...naive. None of them were too developed, in my opinion. Some of them felt extremely whiney, or over the top, or not over the top enough. I think there could have been a lot more to these characters.
The writing was all right. For some reason, I found it very hard to connect with the style. It took me a long time, and even then, I had to fight to keep up with it. Now, it could just be me; Rayburn isn't a bad writer at all. It just didn't connect with me. I would have liked more inner dialogue with Vanessa, and there were a lot of details that didn't match up, age-wise especially. And every time Vanessa would talk about her sister's eyes or hair, she described the color. "Her dark hair," "her blue eyes," and it was annoying.
Liked the overall idea of the plot, and what it could have been, but just like the characters, it fell flat. Or maybe it fell flat because of the characters. Maybe it would have been different if I had identified with the characters. Anyway, to be honest, I was bored throughout most of it. At first, it seemed like it was going to be good, but then everything just fell. I was confused on timelines and clues and details a lot of the time. But, no, not because I wasn't reading right, but because we were never told about them. And the lack of emotion really made me want to put the book down. Your sister dies...it's not just a "Oh, woe is me, my sister died." That really, really pissed me off.
Now that I'm going through and remembering all the stuff I mentally wrote down as I was reading, the less I like the book. There were some chapters that were okay, but I just didn't get it. It didn't really take me and force me to read it. So much potential with a plot like this. I wish it had delivered. I've read that a lot of other people liked this book, so maybe try it if you want. Read a couple of chapters first, though, in my opinion.