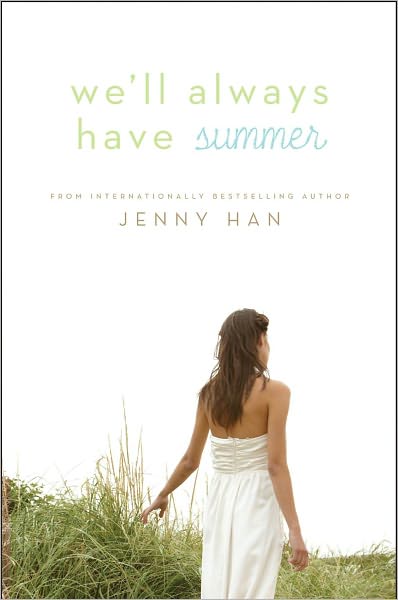 By:
Jenny Han
Published:
April 2011 by Simon & Schuster
Format:
Hardback, 291 pages
First Reviewed:
October 2011
Buy:
Barnes & Noble
//
Books-A-Million
//
Amazon
//
Book Depository
Add it on Goodreads
Two brothers. One true love. Summer will never be the same.
Belly has only ever been in love with two boys, both with the last name Fisher. And after being with Jeremiah for the last two years, she's almost positive he is her soul mate. Almost. While Conrad has not gotten over the mistake of letting Belly go, Jeremiah has always known that Belly is the girl for him. So when Belly and Jeremiah decide to make things forever, Conrad realizes that it's now or never—tell Belly he loves her, or lose her for good.
Belly will have to confront her feelings for Jeremiah and Conrad and face the inevitable: She will have to break one of their hearts.
Rating:
5/5
Sequel to The Summer I Turned Pretty and It's Not Summer Without You. Excuse the language, but it's necessary: Damn! Jenny Han. My goodness. There are very few books in the world that have left me with a heavy heart after finishing. The good kind that says I felt a lot during the story and after. I have a feeling I'll be thinking about Belly's story for the rest of the night.
In the beginning, I didn't know if I was going to like it as much as I did the second book, as that one had me in tears two many times to count before the midway point. But this one built up the emotion in a different way, which, now that I've finished, really worked for the book.
Something I failed to mention in my review of the second book, which Han also did in this one, was the dual narrative. In book two, there were a few chapters with Jeremiah narrating. This time we had Conrad, and it was a great choice, methinks. I loved being inside his head, seeing Belly through his eyes and getting to know how he (also Jeremiah in the second book) was really feeling.
The plot was one I was worried about, to be honest, once I started reading, as I was kind of feeling like Belly's mother. If you've read the book, that'll make sense. But the last half just blew me away. I just have to say one name, and some of you will understand: Susannah. That's all I'm going to say.
Han delivered with this series. She really gave me all I want out of a romance story and even more. She made me cry, laugh, and everything in between. I still have that heavy, emotion-filled heart right now, and I doubt it'll be gone any time soon. I have a feeling these will become summer reads for a very long time. Quick, easy reads packed with so much. I highly, highly recommend them. Fantastic, stunning, and just breath-taking.