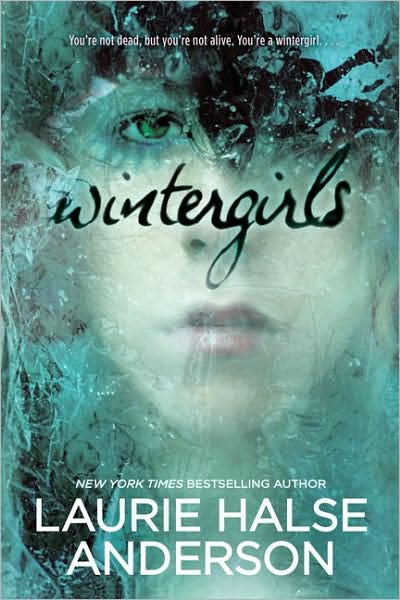 By:
Laurie Halse Anderson
Published:
March 2009 by Viking
Format:
Hardback, 278 pages
First Reviewed:
June 2011
Buy:
Barnes & Noble
//
Books-A-Million
//
Amazon
//
Book Depository
Add it on Goodreads
"Tell us your secret," the girls whisper, one toilet to another.
I am that girl.
I am the space between my thighs, daylight shining through.
I am the bones they want, wired on a porcelain frame.
Lia and Cassie are best friends, wintergirls frozen in matchstick bodies, competitors in a deadly contest to see who can be the skinniest. But what comes after size zero and size double-zero? When Cassie succumbs to the demons within, Lia feels she is being haunted by her friend's restless spirit.
In her most emotionally wrenching, lyrically written book since the multiple-award-winning Speak, Laurie Halse Anderson explores Lia's descent into the powerful vortex of anorexia, and her painful path toward recovery.
Rating:
4/5
This poor book has been on my shelf for a long, long time. I think I got it for my birthday in 2009. Aw, I'm sorry, book! Anyway, this is my second time reading Halse Anderson. My first time was yeeeaarrsss ago when I was in middle school, I think. I read Fever, and remember I loved it. So I was excited to dive into this. Though there are a few issues I have, this still did not let me down.
When reading books with main characters like Lia, who have problems/depression/illnesses/etc., I'm always weary. Most of the time the characters are never fully developed, or I just never care about their issues. Halse Anderson, thankfully, doesn't fall under into that trap. She gave Lia a distinct voice and, personality, and I cared about her. For the most part, I cared about her problems, how she was going to get through them, and how they were affecting those around her. There were those times where I didn't feel like I was getting enough emotion or feeling from her, and sometimes she threatened (though never actually crossed into) going into the "annoying" category. But, again, for the majority of this, she came off extremely realistic.
This really is Lia's story, but her supporting cast was realistic as well. They were developed and all had important roles to play. It felt like a real family, without it feeling like Halse Anderson needed obstacles for Lia, if that makes any sense. Also, the therapists felt believable, how Cassie was used was great, and the male character in this (not a love interest, surprisingly and gratefully) was a nice and interesting addition.
I have one complaint about the writing, so I'll get it out of the way: I felt disconnected. Sometimes I just couldn't grasp the narrative. While it's different and I really enjoyed that uniqueness, I think some of the stylistic choices were a bit much. Like the striked (wait, is that a word?) out words, which were fine at times, but then felt a bit over-the-top in other areas.
Nevertheless, Halse Anderson is pretty darn great with her writing! She's gifted with giving her narrator a voice that stands out and she knows how to really get into a character's mind to the point where the reader almost feels like they're having the thoughts. I really enjoyed her flashback moments and how she incorporated details. Her prose is fantastic and she really knows how to move a story along in such a way that I had to keep reading.
In a way, this reminds me of If I Stay by Gayle Forman. They don't have much in common, but I say this because both books have such a strong message that the plot almost didn't matter for me. Though If I Stay had better emotion for me, which is why I was able to look past my nitpicks with that. While Wintergirls has a ton of emotion as well, like I said before, I was disconnected at times. When I got hit with the emotion, it was so, so powerful, but then it would seem to taper off. I'm teetering on the edge of "I don't really know how to explain what I'm thinking," so I apologize. But those breaks in the emotion allowed me to dissect the plot more than I would have otherwise. There were a few plot points that I felt were unneeded. They were just...there. Some places I felt could have been tighter, and I think the ending was far too rushed. I would have loved to see that slowed down a bit. However, I loved the points that came together and the message this gives.
Halse Anderson is a great author; that's no secret. I think knowing her record made me expect a bit more from this. It was a very, very great read, don't get me wrong, and I highly recommend it, but I just wanted that extra
oompf!
to push it into must-read territory. Emotion is what I crave with books like this, and I only got it at certain times. But, still, a great read!