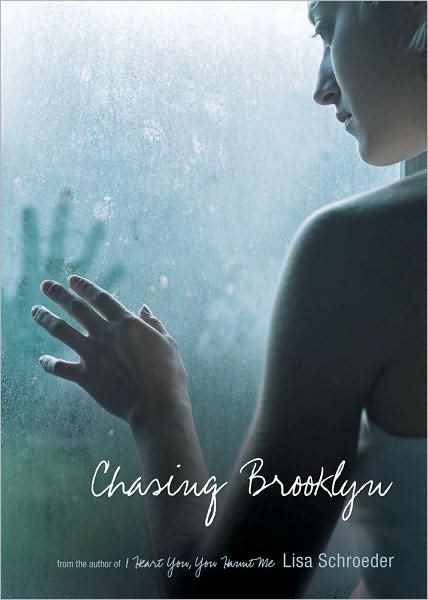 By:
Lisa Schroeder
Published:
January 2010 by Simon and Schuster
Format:
Hardback, 412 pages
First Reviewed:
August 2010
Buy:
Barnes & Noble
//
Books-A-Million
//
Amazon
//
Book Depository
Add it on Goodreads
Restless souls and empty hearts.
Brooklyn can't sleep. Her boyfriend, Lucca, died only a year ago, and now her friend Gabe has just died of an overdose. Every time she closes her eyes, Gabe's ghost is there waiting for her. She has no idea what he wants or why it isn't Lucca visiting her dreams.
Nico can't stop. He's always running, trying to escape the pain of losing his brother, Lucca. But when Lucca's ghost begins leaving messages, telling Nico to help Brooklyn, emotions come crashing to the surface.
As the nightmares escalate and the messages become relentless, Nico reaches out to Brooklyn. But neither of them can admit that they're being haunted. Until they learn to let each other in, not one soul will be able to rest.
Rating:
4/5
After reading Lisa Schroeder's other book, I Heart You, You Haunt Me, I was excited to dive into this one. It's a companion novel in a way, with the same moral and element of "restless souls." And it didn't disappoint.
As it was with her other novel, we didn't get too much of a setting, but that works. I enjoyed what we did get of it, and I think it was better portrayed in this one than her other. Sometimes I would have liked a tad bit more, but overall I liked the setting.
I also loved the characters in this. Mrs. Schroeder did a great job of making them both emotionally three-dimensional. Both Brooklyn and Nico were broken, but not in the cliche, boring way. Schroeder really made me feel for them, and root for them to overcome this situation. The minor characters were also nice additions to this, even one who we only heard on the phone. Each character had a place, which was nice.
I'm still a big fan of Schroeder's writing style as well. She's one of the few authors I've read who can pull over a dual-narrative extremely well, especially in verse! Granted, the narratives were in different formats, but I even thought that was pretty unique. I still noticed a couple of errors, but that's expected and it makes me excited when I find errors in great books. :o
The was intriguing, and I love ghosts, so that was right up my alley. I do wish we got a little more with the ghost and mystery element in a way, but I also didn't mind following Nico and Brooklyn on their journey battling with Lucca's death. It was paced well, I wasn't once bored, and if I real life didn't keep getting in the way, I would have read this in one setting. The moral behind it was both beautiful and inspiring. It really made me think, and I loved how it tied in with the ghosts. It's a very creative concept.
It's definitely worth the read, and it's made me even more of a Lisa Schroeder fan. I would gladly re-read this.