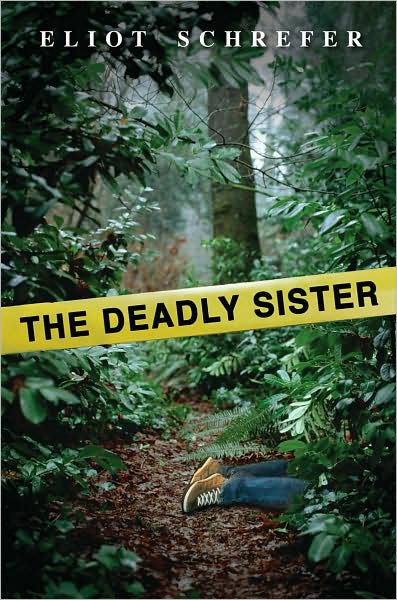 By:
Eliot Schrefer
Published:
May 2010 by Scholastic
Format:
Hardback, 310 pages
First Reviewed:
May 2011
Buy:
Barnes & Noble
//
Books-A-Million
//
Amazon
//
Book Depository
Add it on Goodreads
Abby Goodwin has always covered for her sister.
Abby Goodwin is sure her sister Maya isn't a murderer. But her parents don't agree. Her friends don't agree. And the cops definitely don't agree. Maya is a drop-out, a stoner, a girl who's obsessed with her tutor, Jefferson Andrews...until he ends up dead. Maya runs away, and leaves Abby following the trail of clues. Each piece of evidence points to Maya, but it also appears that Jefferson had secrets of his own. And enemies. Like his brother, who Abby becomes involved with...until he falls under suspicion.

Is Abby getting closer to finding the true murderer? Or is someone leading her down a twisted false path?
Rating:
2/5
Well, let's just say I was weary of starting this after finding an error in the description (on the book copy, not the above). From the get-go, I wasn't really into the story, the writing, or the characters. But the ending saved this from being a complete fail.
Eh...the characters. Never cared for them. Abby drove me absolutely nuts through the majority of this, and Maya was just...one-dimensional. They all seemed that way, to be honest, though I can't decide whether that was purposeful or not. Anyway, the characterization was weak for me and I felt detached from them, and I didn't really care who committed the crime.
I didn't care for Schrefer's writing either. First, there were some errors...and you know I don't like to find many of those. Tsk, tsk. Anyhow, I just couldn't get into the style until about a fourth of the way through. He failed to grasp my full attention and Maya's narrative voice was simply blah. I wish he would have used more description in places, though what really drove me nuts was the dialogue. It was never realistic. It was choppy, over-the-top, and just not how people--teens especially--talk to one another.
Before the ending, I would have went on and on about how predictable and uninteresting this was. When dealing with murder mysteries, I expect intensity. I wanted to be on the edge of my seat. Never was I fully invested in what was happening or who did it. I thought it was predictable, and even though I semi-predicted the outcome, it still came as a shock to me. And because of that, this may deserve a re-read sometime in the future, in which case there might be reasons for things that I didn't like. However, some of the scenes and elements seemed, er, a bit unnecessary, or as though they should have paid a bigger role in the story. I think the overall premise of this was a win, but would have completely succeeded with more intensity and better characterization.
Even though the ending was a nice touch up--save for a bit of it; won't say to avoid spoilers--I still don't think I enjoyed this too much. It was all right, but I just wanted more intensity and edge-of-my-seat action or at least wish it would have had me going crazy with the mystery of who did it.