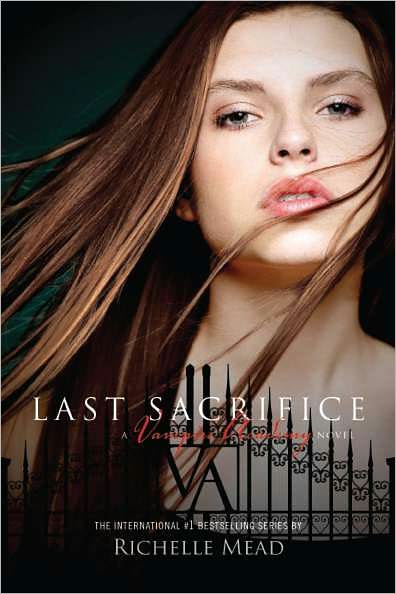 By:
Richelle Mead
Published:
December 2010 by Penguin Group
Format:
Hardback, 594 pages
First Reviewed:
December 2010
Buy:
Barnes & Noble
//
Books-A-Million
//
Amazon
//
Book Depository
Add it on Goodreads
It all comes down to now.
The astonishing final novel in Richelle Mead's epic series!
Murder. Love. Jealousy. And the ultimate sacrifice. Now, with Rose on trial for her life and Lissa first in line for the Royal Throne, nothing will ever be the same between them.
Rating:
5/5
I can summarize this entire, nearly 600 page book (and the entire series even), in one word: Incredible.
I'm one of those people who thinks it's a stretch when others go crazy about books and say they're the most incredible books he/she's ever read. Or that no other book could ever be better. But you know what? I'm going to say it. I'm just going to flat say it: Vampire Academy is hands down the best series I've ever read. After finishing this series, I feel like I need to go to all my other reviews and take off a star.
Never have I read another book or series that is able to take me through all emotions, make me sit at the edge of my seat with action, make me completely unsure of what's going happen (the twists in this series are insanely amazing), or make my jaw literally drop...more than once. And in all honestly, I've never loved characters as much as I do with those in this series. Every single one, even the ones that we're supposed to dislike, I like, but in the way that I dislike them. If that makes any sense...
Anyway, Richelle Mead is one incredible storyteller, though I will say that in this book there were issues I had, technical-wise, with the writing. Of course not enough to really bother me or take me away from the book, but I did want to say sometimes, "Richelle Mead! Lay off the adverbs, girl!" Or: "Richelle Mead! Your dialogue tags are lacking, homie! Don't make me feel like a ten-year-old with all the "said so-and-so's." Or: "Richelle Mead! You use that word/phrase too much, amazing writer." Pfft, but that's okay, because her storytelling abilities and her writing in general soars over most other author's (that I've read).
I'll go ahead and wrap this up before I break into more praise. In short: it's too amazing for words, really. It's been about thirty minutes since I finished, and I still have chills from it and I can't stop thinking about it. You know something is out of this world when you go without food for six hours, and only have three bathroom breaks. And before anyone says, "Oh, I checked out the first book, and I didn't like it much," you HAVE to read past it. Everyone I've made read past the first book, have devoured the rest in the series, and have to come back to thank me. I'm not kidding you. And don't pull out the "I hate vampires" card, either, because I'm not a fan of vampires either, but these aren't anywhere near other vampire books. They only have the word "vampire" in common.
Read it. Now.