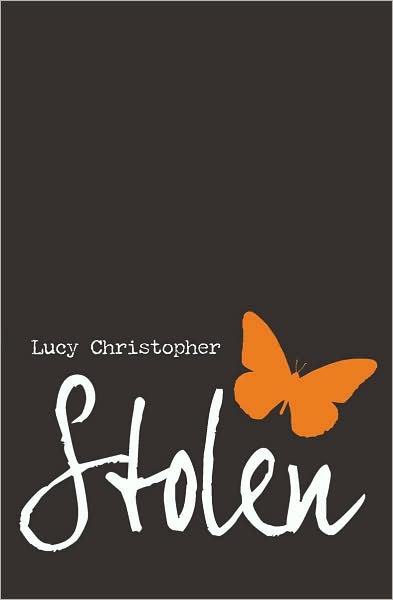 By:
Lucy Christopher
Published:
May 2009 by ChickenHouse
Format:
Hardback, 299 pages
First Reviewed:
August 2010
Buy:
Barnes & Noble
//
Books-A-Million
//
Amazon
//
Book Depository
Add it on Goodreads
Gemma, 16, is on layover at Bangkok Airport, en route with her parents to a vacation in Vietnam. She steps away for just a second, to get a cup of coffee. Ty—rugged, tan, too old, oddly familiar—pays for Gemma's drink. And drugs it. They talk. Their hands touch. And before Gemma knows what's happening, Ty takes her. Steals her away. The unknowing object of a long obsession, Gemma has been kidnapped by her stalker and brought to the desolate Australian Outback. STOLEN is her gripping story of survival, of how she has to come to terms with her living nightmare—or die trying to fight it.
Rating:
4/5
When I found out this was written as a letter, I was stoked. Just after the first page, I knew it was going to be great, and this first page did not lie.
Amazing setting, for one, though I'm a bit biased because it was in Australia, but two, no other setting would have been better. The desert. Hot. Cold. Mysterious. Beautiful. And everything in between. Perfect.
We really only meet two characters in this. Gemma and Ty. But they're perfect. Gemma, the broken, scared, confused teenager was perfect. She did sound a bit old sometimes, but there was really nothing I didn't like about her. And Ty, the kidnapper...how are earth did Mrs. Christopher make me fall in love with him? I literally did. I hated him. I loved him. I felt sorry for him. I saw his feelings. He was perfectly-crafted. The minor characters that we only met for a few pages toward the end, were nice too, although I would have liked more emotion from Gemma's parents. They kind of felt more thrown in and less-developed than the main characters. Gemma also talked about some others throughout, but I did get confused on one of those character's relationship to Gemma. Sister or just a friend? But they were nice additions as well.
One of my favorites! I have never read a book in letter form that was written so well. I really felt as though I was reading a letter and not just some book passing as a letter. She had beautiful descriptions, and she made me feel for everything, even the camel and the land. I really felt as though I was there with Gemma, and that was perfect. I would love to read more from this author for sure.
The plot was so creative and amazing! I really enjoyed it, and I didn't have any problems following along. It held my attention throughout, and just the concept was so original that I couldn't help but get sucked in. There was a slight section in the middle where I felt it started to slow down, but not near enough for me to put it down, and it also picked right back up pretty quickly. There were times where I was rooting for Gemma, but also for Ty. Yes, the kidnapper. I did, however, feel the ending pages (maybe the last thirty or so) were a bit rushed. I think they could have been developed just a tad bit more. All in all, though, I loved the plot!
Now this could totally just be my OCD, but there were no chapters. And of course I understand why, and because I nearly finished this in one setting, it didn't bother me too much, but sometimes I would have liked more than a chapter break. But it didn't take away from the story.
I am so glad I picked this up at the bookstore. It was a great read, and I wouldn't mind re-reading it. If you're trying to write a book in letter form, this is how it's done, people! This is how it's done.