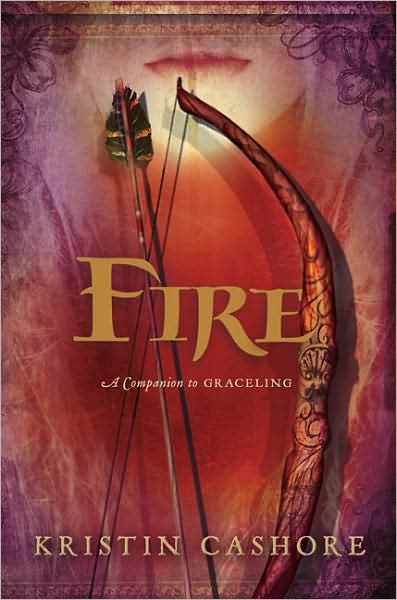 By:
Kristin Cashore
Published:
October 2009 by Dial
Format:
Hardback, 461 pages
First Reviewed:
September 2010
Buy:
Barnes & Noble
//
Books-A-Million
//
Amazon
//
Book Depository
Add it on Goodreads
She is the last of her kind . . .
It is not a peaceful time in the Dells. In King City, the young King Nash is clinging to the throne, while rebel lords in the north and south build armies to unseat him. War is coming. And the mountains and forest are filled with spies and thieves. This is where Fire lives, a girl whose beauty is impossibly irresistible and who can control the minds of everyone around her.
Rating:
2/5
I bought this when I bought
Graceling
, so that's really the only reason I read it. Because, after Graceling, I probably wouldn't have bothered. And, eh, I still wasn't too into this. (It's a companion novel to Graceling, and you don't need to read Graceling to read this.) I hoped I would like this better than Graceling, and at times I did, but not enough...
Didn't care for the characters. I was never connected to any of them, which is probably why I didn't care for the book as a whole. The only "character" I felt had a distinct personality was the horse, Small. The main character, Fire, didn't feel like a strong lead at all. I wasn't emotionally connected to her or any others. The minor characters weren't developed enough for me to distinguish them; half the time I had to stop and wonder who a character was because they were forgetful. They had potential, but I just didn't like them.
I did prefer this narrative, though, to Cashore's last one. Her writing did improve. The narrative itself was pretty strong. She did still interrupt dialogue too much for me, but I guess it's just her style; I just don't care for it because it makes the dialogue seem choppy. I also still felt that the language and tone of this wasn't consistent. She would throw phrases in that would confuse me on the language. But, overall, she did improve by a long shot.
I never got into it the plot, really. I was more into it in the beginning of the novel, but I lost interest before the halfway mark. I was lost a lot of the times and I found myself wanting to skim through. Emotionally, I wasn't connected. And I think because I didn't care about the characters, I didn't care what was happening with them. It just seem to have a lot of depth, and scenes were rushed over. Overall, I didn't care for it much.
At times, I liked it better than Graceling, but at other times I felt the same way; just wasn't my type of read.